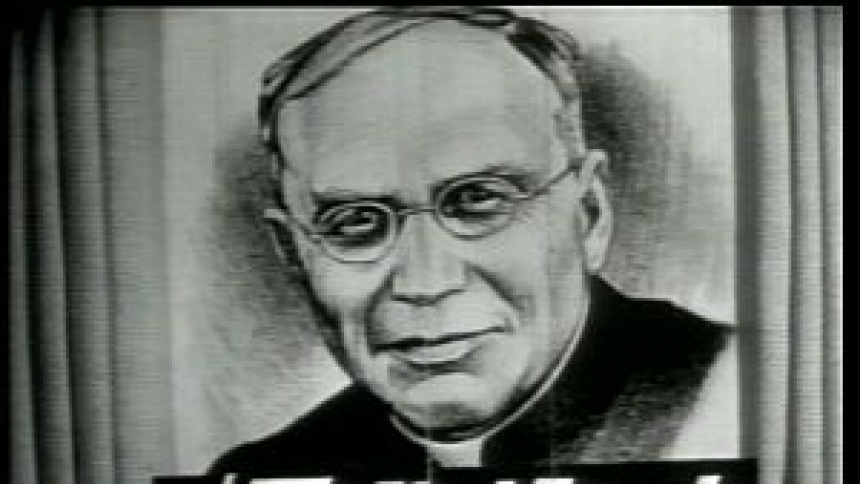 This is the third article of a four-part series on the life and mission of Father Thomas Frederick Price, the first native North Carolinian to be ordained a Catholic priest and a co-founder of the Catholic Foreign Mission Society.
The series is written by Philip G. Johnson, a native of Greensboro, NC. Philip is a former Naval Officer and current Seminarian in the Diocese of Raleigh. Philip is currently assigned to St. Catherine of Siena Church in Wake Forest. Father Price ministered to many of Philip's ancestors throughout his travels in North Carolina, so Philip has a special devotion to "The Tar Heel Apostle."
On March 9, 2012, Bishop Michael Burbidge of the Diocese of Raleigh, North Carolina, signed an edict opening the diocesan phase for the Cause for Beatification and Canonization of the Servant of God Father Thomas Frederick Price, the first native-born North Carolinian to be ordained a Catholic priest for service in North Carolina. With this article I hope to present the many steps involved in a Cause for Canonization and update readers regarding the current state of Father Price's Cause.
In an October 2012 interview1 with the Diocese of Raleigh, Father James F. Garneau, Episcopal Delegate for the Cause for Beatification and Canonization of Father Thomas Frederick Price, outlined the process involved with a Cause. He mentioned that this examination is unique in a Cause like Fr. Price's, for rather than collecting first-hand accounts of his life, the research and testimony is mostly historic in nature due to his death in 1919.
After receiving a nihil obstat (literally "nothing hinders") from Rome, the local Church has the authority to officially open the Cause and the candidate can then be referred to as the "Servant of God." Father Price's Cause originally belonged to the Diocese of Hong Kong, where he died, before being transferred to the Archdiocese of New York following the relocation of his grave to the Maryknoll cemetery in 1936. Additionally, the bulk of information concerning his life can now be found in the Maryknoll archives. As the Archdiocese of New York is currently pursuing a Cause for Bishop James Anthony Walsh, also a co-founder of Maryknoll, the Cause for Father Price was moved to Raleigh with the permission of Rome and Bishop Burbidge in order to be given more attention.
There are three levels involved in the Diocese's current investigation. First, a doctrinal commission is in the process of examining Father Price's written works to ensure that everything he wrote was consistent with the Catholic Faith. Also ongoing is a study by a historical commission, which plays a very important role in this Cause of a priest who is long deceased. The members study archived material and testimonies in order to "piece together the different phases of Father's life as best as we can constitute it from this perspective," as Father Garneau explains. The third element is the tribunal, which interviews those who wish to give testimony of the reputation of Father Price. Testimony can be given either for or against a reputation of "heroic virtue."
As Father Price has been dead for nearly one hundred years and there are no living witnesses who knew him, much of the testimony is second-hand from those who knew people who had met Father Price. For example, Father Garneau recounted a story during his interview of meeting Bishop James E. Walsh in the 1970's. As a young priest, Bishop Walsh accompanied Father Price on the first Maryknoll mission to China. Other forms of testimony include seeing the effects of Father Price's missionary activity in North Carolina, around the country or overseas, or even simple witnesses from those who have been inspired by his life.
The tribunal received testimony in North Carolina and New York, and it may travel to Hong Kong to accommodate possible witnesses living in China. Interviews are open to anyone with information about Father Price, and it is still possible to give testimony by contacting Father Garneau.
Upon the completion of the work of the two commissions and the tribunal, the historical, doctrinal, and personal testimonies will be sent to the Congregation for the Causes of the Saints in Rome. The members of this Congregation will examine the evidence and determine if it should be brought before the Holy Father, who would then choose whether or not to recognize "heroic virtue" in the life of Father Price and declare him, or any other candidate for Sainthood, as "Venerable." If miracles are attributed to Father Price's intercession, the Holy Father could beatify and later canonize Father Price. As Father Garneau states in his interview, the Pope has the authority to move a Cause forward but is under no obligation to do so.
Those who are inspired by Father Price are encouraged to share the story of his life and to pray for his intercession. The Diocese has approved the following prayer for this purpose, and asks that any favors granted be reported to The Office of the Episcopal Delegate for the Cause of Father Price,  7200 Stonehenge Drive, Raleigh, NC 27613-1620.
Heavenly Father, You so inspired Father Thomas Frederick Price with love for You and zeal for the Gospel that he dedicated his life to serve You and Your Church, first in North Carolina, his home state, and then in the foreign missions. Grant that by his example we may grow in holiness and into a deeper union with Our Lord Jesus Christ. Help us to be authentic witnesses of the Gospel and proclaim the Holy Name of Jesus throughout the Diocese of Raleigh and to all the people and in all the places we are sent to love and serve.
If it be according to Your Will, glorify Your servant, Father Thomas Frederick Price, by granting the favor I (we) now request through his prayerful intercession (mention your request here)
I (we) make this prayer confidently through Jesus Christ, Our Lord. Amen.
Imprimatur: Most Rev. Michael F. Burbidge,
Bishop of Raleigh
June 15, 2012