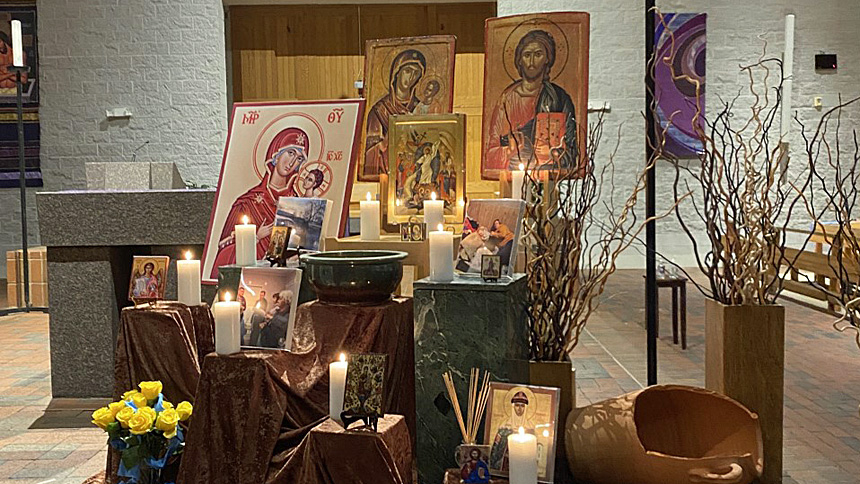 Ukrainian icons and candles set the tone for the interfaith Solidary for Peace in Ukraine prayer vigil held at Immaculate Conception Church in Durham on the evening of March 14, 2022.
Father Pius Wekesa, pastor of Holy Cross Church in Durham, was among the clergy participating in the prayer service, along with several Holy Cross parishioners and those from other churches. Anna Rzewnicki, OFS, a first-generation Ukrainian American parishioner at Holy Cross, was asked to speak about her experience growing up in Chicago, where her parents arrived after emigrating to the United States from Europe at the end of World War II.
The incense and icons at the prayer service reminded her of the Ukrainian Byzantine Rite Catholic church she attended as a child and where she and her husband, Deacon Phil Rzewnicki, OFS, were married. "I have Ukraine in my heart and my soul," she told those gathered. 
She also spoke about the work of the Ukrainian Association of North Carolina (UANC), whose co-presidents Donna Goldstein and Maryna Kapustina have family members in Ukraine. They learn from their contacts about the Ukrainian soldiers' needs and hold fundraising rallies and social events locally to support the procurement and delivery of supplies in response to those needs. Details about those events are posted to the organization's Facebook page.
As the situation in Ukraine continues to unfold, UANC is developing plans to provide additional support, similar to the Wounded Warriors program in the U.S. that provides surgery and physical therapy care. They also are exploring how to help with housing Ukrainian families, if that becomes necessary. 
They also provide learning opportunities:
For children, a Ukrainian culture teaching kit, created in collaboration with the Carolina Navigators Program. The program is designed to help children learn about the culture and country that is in the news.
Ukrainian Humanitarian Immigration Clinic on Saturday, March 26, at Campbell University in Raleigh. Details on the UANC Facebook page.
Goldstein also cited RAZOM for Ukraine. RAZOM -- the word means together in Ukrainian -- is responding with critical medical supplies and amplifying the voices of Ukrainians. Read about the organization here.
Fr. Jacek Orzechowski, OFM, pastor at Immaculate Conception Catholic Church, wrote in a message to his parishioners about a conversation he had with a fellow friar in Poland, who "have been heavily involved in responding to the needs of the Ukrainian women and children seeking refuge from the violence unleashed by the invading Russian army." Read more from that message.
For Ukraine | A Prayer for Peace from Pope Francis
Lord God of peace, hear our prayer!
How many moments of hostility and darkness have we experienced?
how much blood has been shed?
how many lives have been shattered?
how many hopes have been buried?
But our efforts have been in vain.
Now, Lord, come to our aid!
Grant us peace, teach us peace;
guide our steps in the way of peace.
Open our eyes and our hearts,
and give us the courage to say: "Never again war!"; "With war everything is lost."
Instill in our hearts the courage to take concrete steps to achieve peace.
Lord, God of Abraham, God of the Prophets, God of Love,
you created us and you call us to live as brothers and sisters.
Give us the strength daily to be instruments of peace;
enable us to see everyone who crosses our path as our brother or sister.
Make us sensitive to the plea of our citizens who entreat us to
turn our weapons of war into implements of peace,
our trepidation into confident trust, and our quarreling into forgiveness.
Keep alive within us the flame of hope,
so that with patience and perseverance
we may opt for dialogue and reconciliation.
In this way may peace triumph at last,
and may the words "division," "hatred," and "war"
be banished from the heart of every man and woman.
Lord, defuse the violence of our tongues and our hands.
Renew our hearts and minds,
so that the word which always brings us together will be "brother" or "sister"
and our way of life will always be that of: Shalom, Peace, Salaam!
Amen.
Prayer from the Franciscan Action Newsletter by Ava Thompson