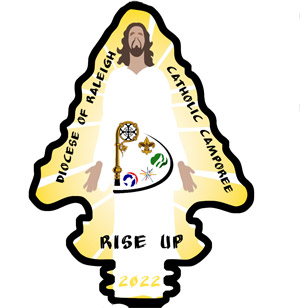 Scouts & Scouters – The Catholic Committee on Scouting has been waiting to host our Camporee, and finally the time feels right. The pandemic disrupted our lives in countless ways, large and small. One result was the cancellation of our 2020, 2021, and 2022 Camporees. We made those decisions to ensure the safety of our extended Scouting family, and the 2023 Camporee will adhere to the safety guidelines of Scouts BSA, Camp Bowers, and local and state authorities. We can't wait to have everyone back to enjoy a great weekend of Fun, Faith, and Fellowship.
Rise Up!
The theme of the 2023 Camporee is "Rise Up!", and it seems more appropriate than ever. As Jesus told Lazarus, "Rise Up!" We look forward to renewing the fun and fellowship of Catholic Scouters, as well as those from ALL other faith traditions (ALL are welcome!)
Youth seek to advance in level and Rise Up! across Scouts BSA, Girl Scouts, Camp Fire and American Heritage Girls. They learn new skills, explore the outdoors, hone leadership and deepen their faith.
At the 2023 Catholic Camporee, we'll have Camp Bowers' 65-foot climbing tower open for those who want to Rise Up! with a little altitude.
And we'll gather as a faith community to celebrate Mass and let our prayers and songs Rise Up! to the heavens.
THEME: "Rise Up!"
WHO: All youth & leaders in Boy Scouts, Cub Scouts, Girl Scouts, Brownies, Daisies, Venturers, Camp Fire, & all other Youth Organization Members
WHAT: A retreat-like environment that includes fun activities (climbing & shooting events, sports, games, competitions, arts & crafts, and much more)
WHERE: Camp Bowers, 13165 NC Hwy 53W, White Oaks, North Carolina
WHEN: March 10-12, 2023
WHY: To fulfill our "Duty to God" in being members of His community.
COST: $18/person – tent campers; $ 12/person – day campers; $60 Maximum for a family of 4 or more. Saturday lunch & evening cracker-barrel snacks will be provided!
QUESTIONS: Direct any questions to Mike.Nemecek@sas.com or Frank.Jackson.Sr@hotmail.com
Online unit registration, leader guides, and additional information will be available in early fall 2022.
Make sure that you put the Catholic Camporee in your unit's 2022-2023 activity calendar!