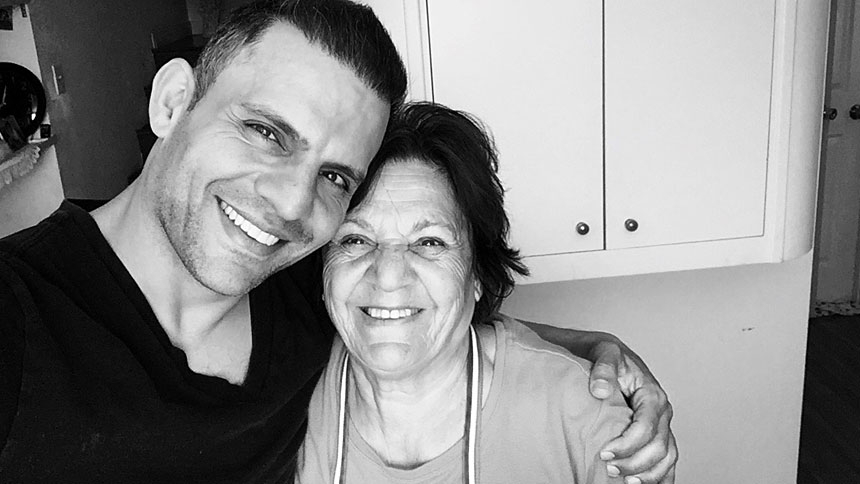 Above: Pete Shilaimon and his mom. (Photo courtesy of Pete Shilaimon.)
---
St. Mary Catholic School has a storied building on its downtown campus.
According to history buffs, it's shaded by a 300-year-old "boundary oak" that once marked Wilmington's eastern border. For modern-day schoolkids in plaid, it's where they learn middle school Math and walk hallways with hardwood floors.
The Basilica Shrine of St. Mary is just across a brick-paved street. Dedicated in 1912, the Spanish baroque style church is known for its tiles, towers and domes.
Nearby a green-grass courtyard brims with boxwood shrubs and pink begonias. Add architectural archways, and it's the kind of place where movie characters have their moment.
At least that was how film producer Pete Shilaimon saw it.
His newest project, Words on Bathroom Walls, opens Aug. 21. Words tells the story of a high school senior named Adam who is living with mental illness and transfers to a Catholic high school in the middle of his academic year. Adam (Charlie Plummer) finds unexpected heroes, including Father Patrick, who is played by Andy Garcia.
From waterfront scenes to those made in a confession booth of the 485-seat basilica, the movie was filmed entirely in Wilmington.
"I am kind of obsessed with North Carolina and shooting there. I love the vibe … and the crews out of Wilmington are incredible," says Shilaimon, who has produced and executive produced projects including Judy, which starred Renée Zellweger in an Oscar-winning performance and the Academy Award nominee Jackie, featuring Natalie Portman.
A Chaldean Catholic, Shilaimon was born in Iraq and fled with his family to Athens, Greece and, later, to the United States when he was a boy. While he feels a deep sense of spirituality, he will smile and say that it's his mother who's the "very strict Catholic" in the family.
He's worked on faith-based films, such as Risen (2016) – which led him to a showing at the Vatican and an audience with Pope Francis. The experience of making the film and meeting the pope deepened his faith, he says, and taught him about himself. 
There was another, less serious, benefit.
"I became my mom's favorite son. My brothers got very jealous," he laughs. "I'm still her favorite son to this day."
He made Risen for his parents who, he says, sacrificed so much for their family.
When he reflects on Words and its main character, Adam, Shilaimon's thoughts take on a different feel.
"It was never really a faith-based film, but it became Catholic in the story telling, on some level," he says. "I like spiritual messages. I also loved the fact that the only school that takes him in is a Catholic school. No other school would let him in because he was disruptive. I think any time Andy Garcia and Charlie Plummer are on screen it's a powerful moment not because it skews so Catholic, but because it skews so much compassion."
Whether the movies are biblical-based and about the Resurrection or, instead, tell the triumph stories of characters who suffered through disease or loss, they're all projects Shilaimon gets excited about.
"I tend to go toward movies that have … faith," he says.
Words on Bathroom Walls is based on a book of the same name by Julia Walton. Read a review of the movie.