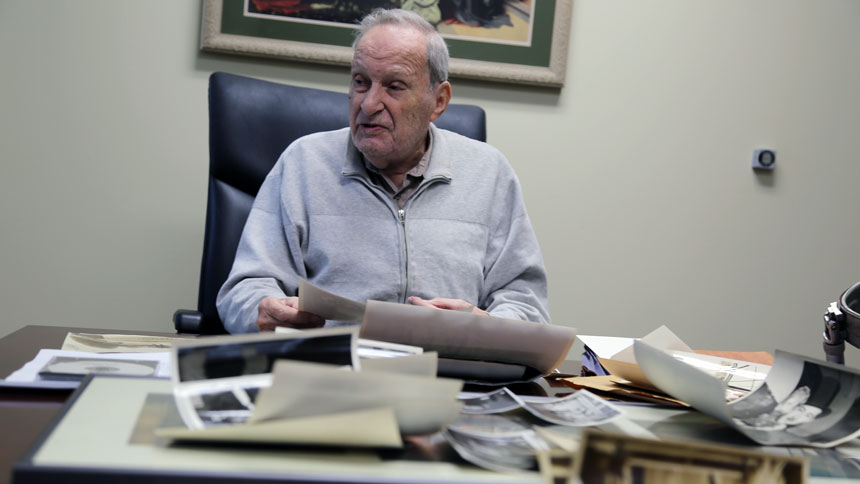 Did you ever have a stranger with a quick wit just show up at your office with engaging stories to tell and, like, a hundred of the coolest vintage photos you've ever seen?
Yeah. Me neither. Until about three months ago. That was when Howard Shulman showed up.
He arrived in a circuitous way. Howard is a Jewish man originally from New York, but living in Cary. He was looking for someone Catholic to talk to about a historical matter. He called a few parishes, but never connected with anyone. Then he found himself on the Diocese of Raleigh's website and found a number for my colleague Anjanette.
He gave her a call on Saturday morning. She was on the sidelines of a lacrosse field watching her son play. When the unknown number popped up on her phone, she -- get this -- actually answered it.
Howard told Anj that his father-in-law had been a photojournalist when Pope Pius XII was installed. Howard had some pictures he wanted to share. Anj, in turn, invited him to stop by the office that Wednesday.
When she relayed all of this to me, I was a little dumbfounded. Skeptical even. This, sometimes unfortunately, is my nature.  
Anj, on the other hand, didn't think twice about the visit. Howard was a guy who called her on the phone, and she was meeting him at 2 p.m. in our parking lot because he was 92 years old. End of story.
But it was just the beginning … of so many stories.
Howard arrived at our office in a pristine, 18-year-old sedan that could have been mistaken for a two-year-old car.
Anj met him, took one look at one photo and knew it was something unique. The pair talked. Howard was feeling good that day and had the energy to come inside the office.
He brought his folders and set them out on a long conference table. He sat at the head of the table. I will always remember how he began the impromptu meeting. He didn't mention any popes, any majestic places or any famous journalists.
Instead, he told us his wife had died a few months earlier.
His eyes brimmed with tears. He said, "You know when you read an obit, it reads, 'And she's now in a better place?' No. She was in a better place here."
His words and emotion settled into each of us at the table. We knew he wasn't contradicting the perfection of heaven. It was just his grief talking.
He told us her name was Barbara and that her father, Sammy Schulman, was a journalist who covered the installation of Pope Pius XII. The table was covered with Sammy's life's work. Howard brought not only photos, but original typed newspaper cutlines (or captions), press passes and travel documents.
Howard brought the items to us because he was moving and wanted it to end up somewhere appropriate.
Alongside our communications director, John, Anj and I marveled at all the black and white images. We passed them around, asked questions and listened as Howard talked about his father-in-law, a self-taught photographer who captured a global Catholic event by making what were called "pictorial records" in 1939.
In the few pictures we saw of Sammy, he grinned big at the camera. He was the kind of guy who waved his hat as he stood on the deck of a ship. He climbed statues to make just the right photo. He waited for sunbeams and let them play on his subjects. He happily wore a tuxedo, with tails, at 4:30 a.m. because that was expected if he wanted to cover an event like a papal coronation.
He was the kind of guy who wrote a memoir and dedicated it to his wife writing, "To Gertie, who let me out of the house, so that these things could happen."
Almost every word Sammy wrote, every photo he was in and every photo he made just seemed to scream, "Hey, I'm on an adventure!" It made me want to travel along, too.
And it made us want to bring our readers along. There will be more content to come over the next few days. But we thought we'd start here by introducing you to Howard.
On his way out that day, he looked at us and said simply, "You've seen the pictures. What you're going to do with it, you don't know and neither do I. But you're gonna have fun."
The Schulman – Shulman factor
If you're the kind of reader who pays very close attention, maybe you already noticed the Schulman-Shulman thing. Maybe you were thinking, "Did they misspell one?" Or maybe you wondered, "Wait. Sammy Schulman's daughter married a guy named Howard Shulman?" The answer to the second question is yes. It's just one of life's little coincidences. It's also the story of how Howard and his future wife Barbara met. As children they traveled with their respective families to a resort in upstate New York. The staff at the resort didn't catch the stray "c" and assumed they were traveling together and placed them together in the dining room. The rest, as they say, is history.
Video
Photos
Click or tap to view full images.