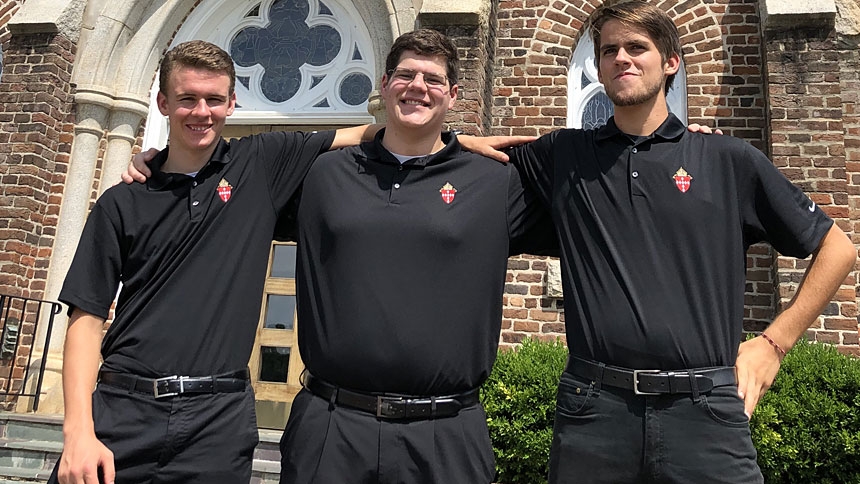 Three men who are seminarians for the Diocese of Raleigh will be studying at the newly formed Blessed Pier Giorgio Frassati House of Formation at Belmont Abbey College.
Kolbe Flood, of Wake Forest, and Philip Tooley, of Apex, will begin 1st college at the Frassati House. They will be joined by Tyler Di Vito, who completed 1st college at St. Charles Borromeo Seminary. Di Vito transfers to Belmont Abbey College as a sophomore.
Located just west of Charlotte, Belmont Abbey College is listed on the National Register of Historic Places and is the only Catholic college between northern Virginia and Florida. The Frassati House is situated within the 700-acre campus adjacent to Belmont Abbey, a monastery of the Benedictine Order. The House includes living quarters for the seminarians, studying areas and a chapel. 
A number of monks at the abbey have committed to help govern and form the seminarians. Those monks include: Abbot Placid Solari, chancellor of Belmont Abbey; Brother Anselm Cundiff, OSB, an assistant professor of philosophy, who will serve as academic advisor and Brother Columban Ryan, OSB, who will serve as resident assistant for the House of Formation.
The mission of the Blessed Pier Giorgio Frassati House of Formation is to provide an environment that forms men to be committed disciples of Christ while they pray and discern God's call to the priesthood. While operating within a college campus of more than 1,400 students, the House provides a balanced program of spiritual, human, intellectual and pastoral formation, as outlined in St. Pope John Paul II, in his pastoral exhortation Pastores Dabo Vobis (I Will Give You Shepherds).
The abbey, and later Belmont Abbey College, were for many years an "island." In the late 1800s, Abbot Leo Haid, OSB, was both the first abbot of Belmont Abbey and also head of the [then] Vicariate Apostolic of North Carolina. Following the creation of the Diocese of Raleigh, Belmont was designated a nullius "diocese" by Pope Pius X, giving the abbey church cathedral rank. While the nullius designation was suppressed in 1977, in 1998 Pope John Paull II designated the church as a minor basilica.