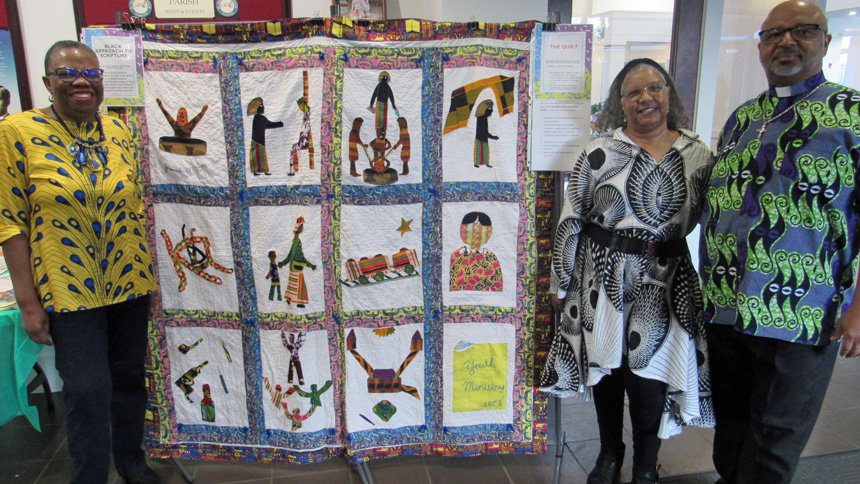 Deacon Stephen Pickett of the Diocese of Charlotte was the homilist for the weekend Masses at St. Ann in Fayetteville as the parish recognized Black Catholic History Month on November 4-5. The Holy Name of Jesus Cathedral Spiritual Choir, directed by Harry Taylor, provided uplifting gospel music at the Saturday evening 5:00 Mass.
The St. Ann AAMEN Chapter displayed pictures and literature detailing Black Catholic history in the United States and the origin of St. Ann Parish in the church gathering space. Ms. Pattie Griffin, a graduate of the Institute of Black Catholic Studies at Xavier University in New Orleans, Louisiana, designed the display.
Deacon Pickett and his sister, Mrs. Monica Williams, grew up attending St. Ann Church.
"St. Ann is an important part of Black Catholic history in the Diocese of Raleigh," Mrs. Williams said. "All who enter the church should be reminded of its humble beginnings in Mack's barbershop in 1940 and the eight Black families who founded it."
Deacon Pickett's homily focused on the lives of the six African Americans on the road to canonization and their journeys as Black Catholics. The Deacon believes one should "pass on the truth to the next generation...teach them early what we learned late."
I was honored to be able to share in this wonderful celebration of Black Catholic History Month with the members of the St. Ann AAMEN Chapter.
St. Ann Catholic Church Historical Photos
Jennifer Jones is administrator for the Diocese of Raleigh's African Ancestry Ministry and Evangelization Network (AAMEN) and Native American Community (NAC).
Photos
Photos by Don Bennett, St. Ann, Fayetteville.