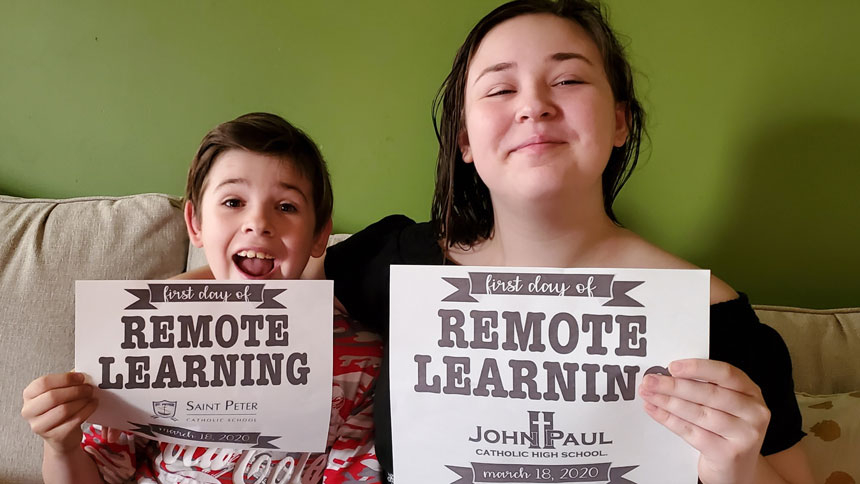 The news came in waves, first small and manageable. The NCAA tournament wouldn't be allowed to have fans attend the game. We stopped shaking hands and started tapping toes.
We could manage; life hadn't changed much.
Then waves got bigger. The ACC tournament wouldn't finish. No NCAA tournament. Universities told students to not come back from spring break. And, for educators and students in the Diocese of Raleigh, school was canceled, at first for two weeks and later until at least May 15.
Educators, with a day's notice, had to rethink the very concept of school. But instead of being overwhelmed, the K-12 schools of the Diocese of Raleigh rose to the challenge.
Though the state-wide canceling of schools was officially announced March 14, the diocese anticipated the decision and shared a plan for its students March 16.
Remote learning classes began the same week, implementing new tools like Zoom and video teaching and using familiar platforms like Google Classroom.
Students miss their friends, teachers and classes. Likewise, teachers and administrators miss their students. But when you listen to stories from throughout the diocese, it's not sadness or frustration that you hear. Instead, innovation, love, joy and faith continue to pave the way for our diocesan schools.
New Beginnings
We have all heard that when God closes a door, he opens a window.
Silvia Frizzelle has that kind of faith, and when the school doors closed, she embraced the windows of distance learning with a joyful heart.
When her children were about to log on to their computers for the first time for online school, she asked them to sit for a "first day" picture.
Her daughter, Caitie, a sophomore at John Paul II, and her son, Derek, a 5th grader at St. Peter, both held up signs proudly proclaiming: "First day of remote learning."
"I thought it was funny because it was a new thing, like the first day of kindergarten. Everybody was excited and curious. We didn't know what to expect," Frizzelle says.
Frizzelle says that their optimism about the experience was due to the communication efforts of the two Greenville schools.
"These teachers worked so hard. Everyone pulled together and let us know, 'We will not abandon your student, we love your student.' That kept us very positive and grateful."
"Celebrity" Guest
Distance learning hits seniors in high school especially hard.
For many, it is the last time they will step on a stage as part of a production or on a field in uniform. Long awaited events such as prom and graduation are uncertain.
Because of this, Doug Smith, director of admissions and marketing for JPII Catholic High School, wanted to do something special. When he saw a story about professional football player Peyton Manning "dropping in" to a virtual class at the University of Tennessee, Smith was inspired.
"Who could we get to drop into one of our classes," Smith asked himself. Who could offer them a message of hope and encouragement when it's needed most?
The answer was simple, Bishop Luis Rafael Zarama would be the perfect guest.
On Tuesday, March 31, the bishop joined senior students of Mrs. Paolantonio's theology class. The surprise brought smiles to the students' faces and will give them one senior year memory they didn't expect and one they won't forget.
The Beat Goes On
Some classes may translate easier to online learning than others. 
A history lecture could be filmed and chapters of a novel assigned, but what about classes like dance? For many students, art and movement classes are the most important, especially in light of the fact that for dancers, their outside world of dance – classes, performances and competitions – have likely been canceled as well.
Cardinal Gibbons dance educator Erica Seninsky understands that and refused to let her students down. Her goal was to, "Keep them moving, creating, reflecting and even performing during our time out of the studio."
Her students are recording dance phrases that they created and posting them online for their classmates. One student begins, and then the next student takes that first phrase and adds to it. By the end, a class-wide choreographed dance is created.
Redefining Community
"As I was driving to school [that] Tuesday, I was bawling," says Winnie Reilly, a middle school teacher at St. Raphael School.
It was March 17, and she was going to the last teacher workday before distance learning began the following day.
"I didn't get to say goodbye. When you teach, that's why you teach. That's what my life is, getting up and seeing the kids," Reilly says.  
But less than 24 hours later, Reilly was live with her first teleconference with her kids. It was a class check-in that unexpectedly turned into a "crazy hat day."
Her heart filled, understanding that the relationships were far from over. In fact, in some ways they were growing stronger.
"It sounds strange because we're all apart from each other, but it's building our community," she says. "You get to see the kids in new way. They're introducing their pets; they're supporting one another."
She says she sees creativity in the way kids tackle assignments and strength in the parents who are supporting them. Most of all, as a teacher, she can see first-hand how her colleagues have grown and learned new technology and strategies overnight.
"We, I mean, the students, the parents, the administrators, the teachers, everyone, we're crushing it," she says with a smile. "I'm just so proud to be part of my faculty, my staff and the diocese."
Photos
Click or tap to view full images.