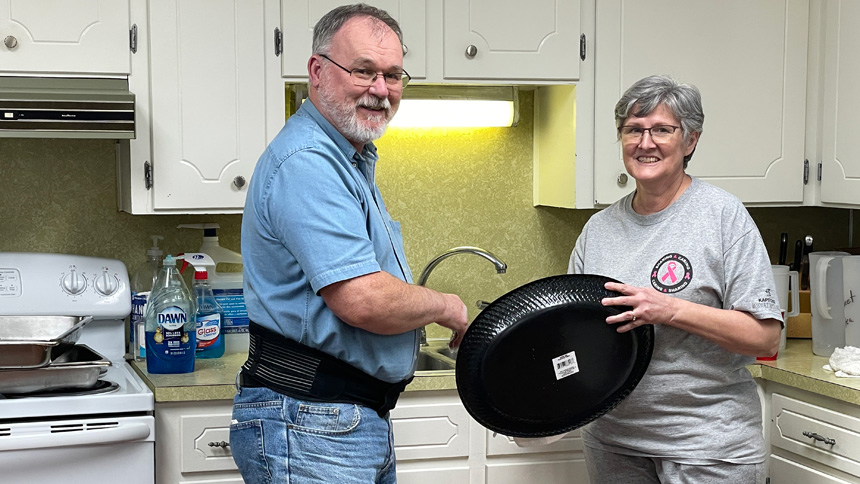 Above: Armon and Sue Pfeifer help to clean the kitchen after the Friday Fish Fry at the St. John the Baptist Parish Hall in Roanoke Rapids March 25.
Fish fry dinners, a tradition at many Catholic parishes in Diocese of Raleigh, were one of the events that stopped, or changed, during the last two years.
According to a Catholic News Service story by Carol Zimmermann, "In 2020, parishes got in one or maybe two fish fries before the country went into lockdown. By the following Lent, most parishes either didn't have them or only offered them as carry-out, and often drive-thru, events.
But this year, as the country looks to reclaim some sense of normalcy with numbers of COVID-19 cases decreasing and mask mandates lifting, fish fries are cautiously coming back with both to-go and dine-in options."
St. John the Baptist in Roanoke Rapids, featured in NC Catholics NOW below, is one such parish where people were glad to be reunited in 2022 for an in-person meal or a carry-out dinner.
"We couldn't have it the last two years … we were just so glad that we could do this again starting back this year," said Robert Lynch, of the Knights of Columbus Father John B. McGuirk Council #7232.
For more than three decades, the council has held the event on most Fridays during Lent. It's a fundraiser that also brings community members together and offers an opportunity for prayer at Stations of the Cross, which takes place after dinner.
"I think we are going through a lot of rough times right now with the pandemic," said Beth Anne Allen, a parishioner whose husband, Troy, helps prepare the meal. "But if we can trust in God and be with each other at these fish fries and gatherings and socials like this, that's real important right now. It's very important to keep that faith and keep moving."
Similar pairings of fish dinners and Stations of the Cross are happening at parishes such as All Saints in Hampstead, Annunciation in Havelock and St. Ann in Clayton.
At St. Catherine of Siena Parish in Wake Forest, the fish is still frying, but drive-thru was the only option in 2022 following a successful 2021 drive-thru program. Before the pandemic the parish had been doing sit-down fish dinners since the 1990s.  
"This was our most successful fish fry we ever had. We more than quadrupled what we normally do [pre-pandemic]," said Joe Palko, of the Knights of Columbus Council #11234 at the parish.
He credits most of the jump to the convenience of a drive-thru and the price of the food, which, he said, has remained at $8 per meal for years.
"Last year in 2021 we served over 450 meals and this year we had it on March 11th and March 25th  and we did drive-thru again and served more than 500 total," he said. "One thing that we did this year that made it also successful is that for our March 25th dinner, all the net proceeds we donated to the Knights of Columbus Ukrainian Solidarity Fund."  
Palko said that while some people stayed on parish grounds and ate outside, most picked up their food, had dinner at home and returned to the church for Stations of the Cross at 7 p.m.
St. Catherine of Siena Parish isn't alone; the Knights of Columbus Council #7186 at St. Mary Magdalene in Apex discovered that takeout (and pre-order) only is what works for their parish as well.
Note: Please check with your parish or a parish near you for exact details such as dates and times. Pre-order is sometimes required and not every event is held every Friday. Sometimes Stations of the Cross is held before dinner. And dinner events typically do not happen on Good Friday.
---
NC Catholics NOW
Photos