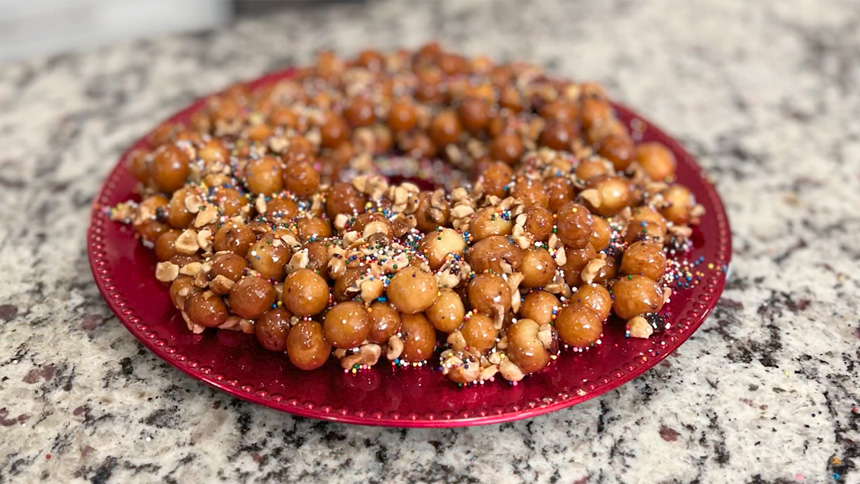 In a holiday NC Catholics NOW video, Father Jim Sabak, O.F.M. creates struffoli, a dessert often enjoyed by his family on Christmas Eve. It was a favorite of his grandmother Josephine, who would often bake it and let it shine as the centerpiece on her dessert buffet.
"People think it's difficult to bake. And, yes, it takes some time to do the frying," said Father Jim. "But when you make it with a friend, it's always easier."
Ingredients:
2 tsp. lemon zest
2 tsp. orange zest
3 tbsp. sugar
1/2 tsp fine sea salt
1/4 teaspoon baking powder
1/2 stick unsalted butter at room temperature
3 large eggs
1 tbsp. Anisette liqueur or Pinot Grigio wine
1 tsp. vanilla extract
Canola oil, for frying
1 ¼ cup honey
1/2 cup sugar
1 tbsp fresh lemon juice
1 1/2 cups hazelnuts, chopped & toasted
Vegetable oil cooking spray
Sugar sprinkles as topping
Directions:
Serves 5. Best made a day or two before serving. It gives the honey a chance to sink in, said Father Jim.
Add flour to a food processor or bowl (if you want to make the dough like Jo). Add lemon and orange zest. (Save the orange to enjoy later. Father Jim says it helps keep the colds away!) Next add sugar, sea salt and baking powder. Add the butter (cut it into small pats for easy mixing). Pulse (or mix in bowl) till coarse.  Add eggs, wine (or liqueur) and vanilla. Pulse (or mix again) till it resembles a ball of dough.
Wrap dough in clear wrap and store in fridge for 30 minutes.
Spread hazelnuts onto single layer of baking sheet. Bake at 350 degrees for 8 – 10 minutes.
In a medium saucepan, add honey and be aware not to scald honey. Add the lemon juice and sugar. On medium heat, let the honey, juice and sugar incorporate. Set aside to cool slightly.
Take the dough ball and cut it into four equal quarters. Roll into a new ball, and quarter those as well. Make them into ½ in thick strips (or "snakes" as Father would say), then cut them into half inch balls and dredge each piece in a small bowl of flour to keep them from sticking together.
Prep your saucepan to fry the dough pieces. Fill it 1/3 of the way with canola oil. Heat the oil on medium until it reaches about 375 degrees. Using a slotted spoon, gently drop each piece of dough into the oil. Don't overload the pan. Fry about 10 at a time. It will take about 2 minutes to fry. As they cool, transfer them onto a plate with a paper towel on top.  They should be firm. 
Put the cooled dough pieces in a bowl and pour the warm (but not hot) honey over top. Add the hazelnuts. Stir gently to mix. Coat the fried dough.
To create struffoli in the shape of a wreath, spray the outside (bottom half) of a circular glass with vegetable spray and set it in the middle of a platter. Using damp hands, shape the pieces around the glass to form a wreath shape. Once the struffoli is around the glass, remove the glass to reveal your festive shape.
Add the finishing touch – sprinkles.