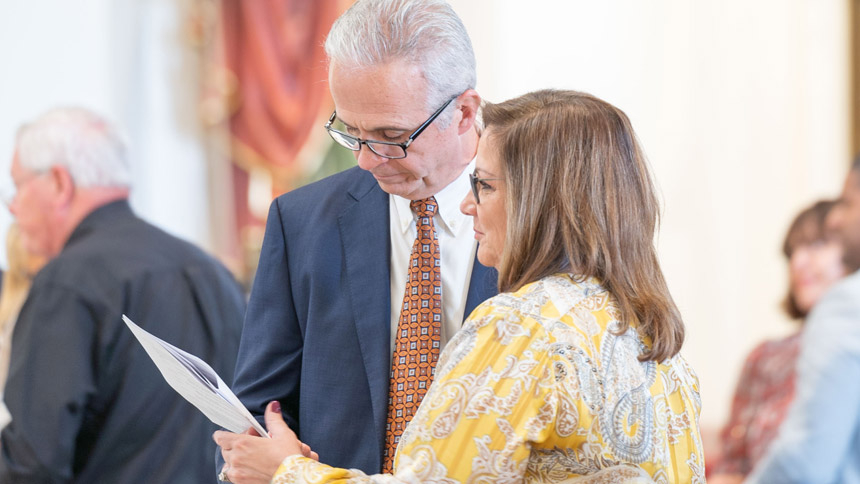 RALEIGH - More than 180 couples from 43 parishes in the diocese gathered with friends and family at Holy Name of Jesus Cathedral for the annual Wedding Anniversary Mass in honor of those celebrating milestones, such as 25, 50 and more than 60 years of married life.
In all, the couples represented 5,500 years of marriage. Some people traveled about 200 miles from Kitty Hawk and 150 miles from Southport in order to attend. 
During the Mass Bishop Luis Rafael Zarama bestowed the Rite of Blessing of Married Couples, and each registered couple will receive a commemorative certificate. Following Mass, Bishop Luis and Monsignor David Brockman visited with couples and rejoiced in the opportunity to reunite after the pandemic prevented this special celebration in 2020.
Fifteen volunteers served as Eucharistic ministers, ushers, readers, greeters and altar servers. 
According to the diocesan Office of Evangelization and Discipleship, which coordinated the event, one highlight was the increased participation from the Hispanic community. About 52 couples registered in Spanish, compared to 18 in 2019. Organizers credited the use of social media and promotion of the Mass during recent Hispanic Heritage events.   
The OED which is dedicated to providing support, resources and learning opportunities surrounding the vocation of married life. The Marriage and Family Life ministry also offers Marriage Enrichment Resources.
Photos