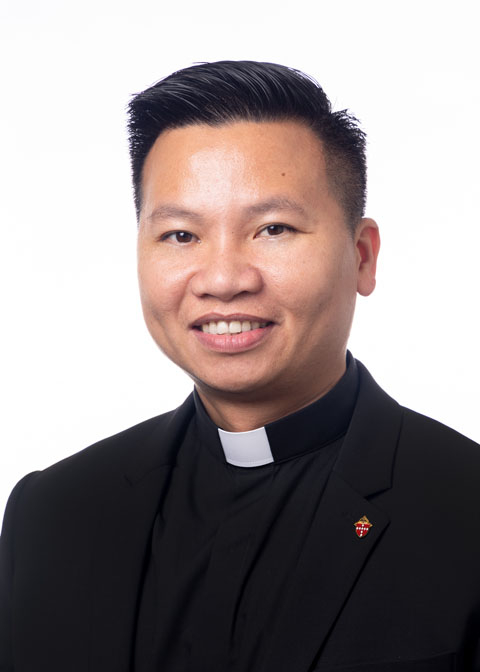 4th Theology
Seminary: Notre Dame Seminary, New Orleans, LA
Ordination Date: 2024
Birth Date: September 4
Home Parish: St. Mary, Greensboro, NC
High School: Nguyen Trai, Ngai Giao, Vietnam
College: Thiet Ke Tao Mau, Saigon, Vietnam, St. John University, Jamaica, NY
Hobbies: I enjoy cooking "good Vietnamese food," playing soccer, swimming, haircuts
Who influenced / inspired you to priesthood? Born and raised in Vietnam, I was an altar server and involved in my church's youth group. I fell in love with the priesthood: thinking about the it brought much peace and joy.
What would you say to a young man who thinks he may have a vocation? "Why not You?!!! Why not now?" God is waiting for you always; come to Him and He will be with you. Just say: "Yes, Lord. Yes, Lord. I come to do your will." Spend time in deep prayer and listen to God; He speaks to your heart. Ask Him, as St. Francis of Assisi wrote, "Lord, what would you have me do?" Pray the Rosary, and the Mother of God will bring you closer to Christ Jesus.
Favorite Scripture Passage: Again Jesus spoke to them, saying, "I am the light of the world; he who follows me will not walk in darkness, but will have the light of life. John 8:12
Favorite Saint: Saint Joseph and St. Mother Teresa of Calcutta.
Anything else of note you would like to share with the diocese: As a Vietnamese, I appreciate the ethnic and cultural diversity in the Diocese of Raleigh. I believe that the Catholic Vietnamese community will flourish in joyful faith.