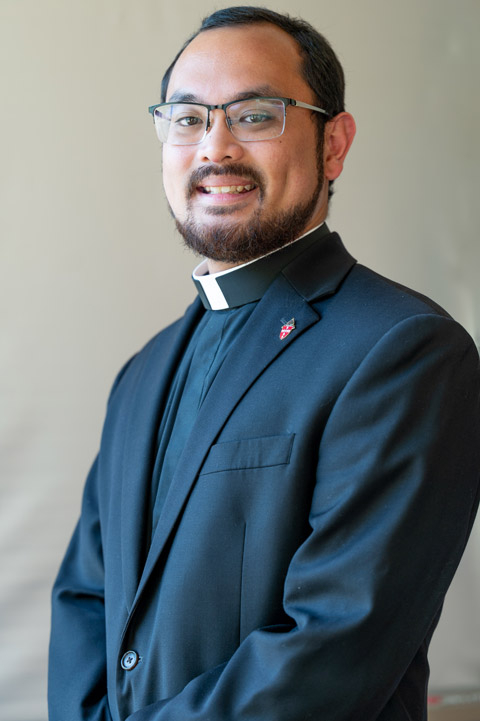 4th Theology
Seminary: Theological College, Washington, D.C.
Ordination Date: 2022
Birth Date: February 14
Home Parish: St. Joseph's Catholic Church (Raleigh, NC)
High School: St. Thomas More Academy
Hobbies: Playing basketball, playing the piano, reading, eating and hanging out with my friends
Who influenced / inspired you to priesthood? Even before he was my pastor, Monsignor John Williams has inspired me to discern about the vocation to the priesthood. Even before I really knew Monsignor very well, I would still admire his joy, happiness, and peace during Mass, Confessions, Adoration and during the interactions with his parishioners. He had this tranquility and happiness about him whenever he celebrated Mass or conversed about his faith. Without Monsignor Williams, I would not be in the position I am in today.
What would you say to a young man who thinks he may have a vocation? I would encourage the young man to pray, discern constantly about his vocation, to talk to his vocations director, his pastor and other members of the clergy he is close to, and to definitely pursue the calling. If he strongly feels that God is calling him to the priesthood, then he should not fear anything, be it his parents, his peers or the culture he lives in. These things are the temptations of Satan, who wants nothing more than to prevent a young man from devoting his life to God. But if this young man truly believes in his heart that God is calling him to the priesthood, I strongly suggest the young man to pray, discern, and most importantly, to place his heart wholly in the embrace of God and to trust that the Lord will lead him wherever the Lord wants the him to be.
Favorite Scripture Passage: 1 John 1:9 "If we acknowledge our sins, he is faithful and just and will forgive our sins and cleanse us from every wrongdoing."
Favorite Saint: St. Jerome. St. Jerome was a Latin Christian priest, historian, and theologian who also became a Doctor of the Church. His translation of the Bible into Latin (the Vulgate) influenced me in my studies of the Latin and Greek languages. These two languages were my strongest classes in high school, from which I learned many interesting things about the history of the classical world and the Catholic Church. As a result, I chose St. Jerome as my Confirmation saint.
Anything else of note you would like to share with the diocese: Although St. Joseph's is my home parish at the present time, I used to be a parishioner at Our Lady of Lourdes Catholic Church in Raleigh from the time I moved to the United States in 2001 until I graduated high school in 2014. I also went to school at OLL. I spent more than half of my life as a member of Our Lady of Lourdes, so I would also like to consider OLL, in addition to St. Joseph's, as my other "home parish" as OLL holds a special place in my heart.