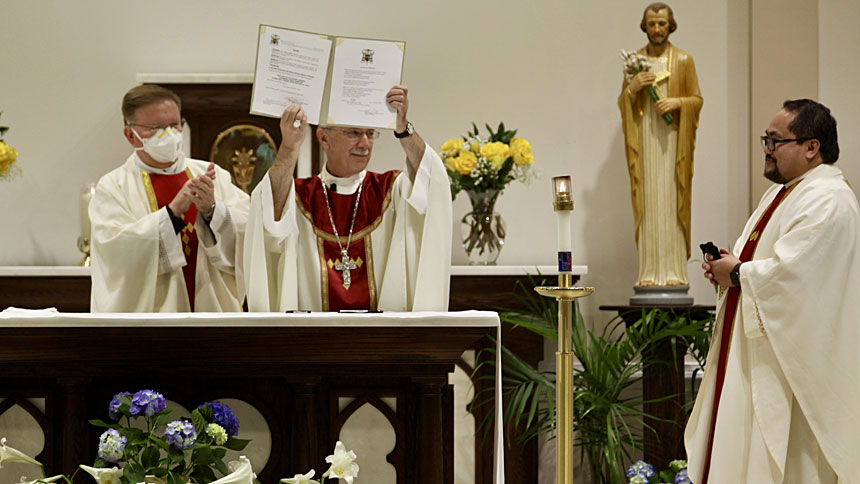 LOUISBURG - On Friday, April 16, Bishop Luis Rafael Zarama presided over a Mass of Elevation at Our Lady of the Rosary.
The long-awaited celebration, which officially proclaimed Our Lady of the Rosary as a parish, was the result of decades of dedication and commitment by faithful Catholics who can now claim a permanent Catholic home in Franklin County.
While Our Lady of the Rosary has had a church building for five years, it had, until Friday, been considered a mission church of St. Eugene in Wendell. (Both OLOR and St. Eugene were, at points in history, missions of St. Catherine of Siena in Wake Forest.)
In order for a mission to be elevated to a parish, many factors must be weighed, including the ability to sustain itself financially and provide for a permanent pastor.
In his homily, Bishop Luis defined a parish as the place where God meets us "on the ground." He tied the idea to the reading where Zacchaeus, a chief tax-collector, climbed a tree to see Jesus.
Bishop Luis said that the parish home is where Jesus invites us to come "down to Earth" so Christ can share with us his love, mercy and compassion.
"We need to have a humble heart to accept his invitation to come down from the tree of our insecurities," the bishop said.
He also congratulated the parish on their dedication and patience.
"After years of waiting, praying, frustrations and trials … I don't know how many times you were upset with the Bishop," he said, smiling. The congregation laughed appreciatively.
While there may have been frustrations in the past, the Friday evening celebration was filled with joy, gratitude and applause.
At the Mass, Father Marlee S. Abao, C.I.C.M., was recognized as the first official pastor of Our Lady of the Rosary. In closing remarks, Father Marlee said, "I would like to congratulate those who were here in the beginning of this, those who didn't give up and those who worked tirelessly to make the church what it is now."
He also thanked Bishop Luis, Monsignor Gerald Lewis, Monsignor David Brockman, Father Celso Tabalanza (his provincial superior) and his brother C.I.C.M. priests who were present to concelebrate the Mass.
As a Missionhurst missionary priest, Father Marlee noted how lucky he felt to be part of this momentous occasion at such a diverse church.
"The Anglo and Hispanic communities worked together to make this a real church. I feel fortunate to witness this collaboration," he said. Recognizing the parish's rich diversity, the Mass was bilingual. Readings, songs, prayers of the faithful and the homily all included parts in Spanish and English.
From the humble beginnings of 1940s missionary priests celebrating Mass in the home of the Rabil family in Louisburg, to being a mission church of St. Catherine of Siena and then St. Eugene, Catholics of Franklin County went through many transformations and worshipped in any space they could find to keep their faith alive.
"Tonight was a pinnacle," said Our Lady of the Rosary parishioner Bunny Williams. "The bishop said, 'growing is not easy,' and no, it has not been for us. But we were united and determined and now it has paid off. It's been an awesome experience … All the chicken plates, yard and bake sales … all the celebrating in homes, school cafeterias, a Methodist chapel and even a smelly old gym makes what Father Marlee said so much sweeter to me, 'We have finally arrived!'"
While it may seem that the hardest work is behind them, Bishop Luis reminded them that this is only the beginning. He said, "Now, what is your mission? To keep this [church] as beautiful as you are. How do you do that? Every time you are here, come down from that tree and let the Lord Jesus help you touch the ground. You will keep enriching this place with your beauty. That is your mission now."
Photos