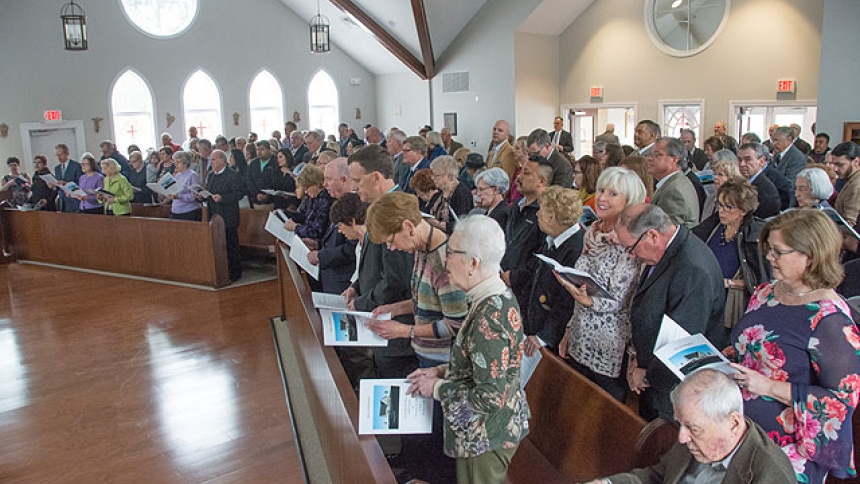 Rocky Balboa was never considered as a name, of course. But, as a moniker, it has a ring to it. For many, it's because of the parish's staying power. Its perseverance. 
"I was thinking … they ought to name this church, St. Rocky Balboa," Father John Gillespie joked. "I'm from Philadelphia, and Rocky Balboa is sort of like a patron saint there. Underdog. Never gave up. That's the story of this church in many ways."
The church described is St. Joseph the Worker, a mission parish. Its origins date back more than a century. And earlier this year Bishop Luis Rafael Zarama dedicated a new church building for the community located in Warrenton, which sits along the Virginia border at the very top of the diocese.
History
The parish started small. In the 1940s and '50s, a priest from Henderson would travel by train to celebrate Mass in private homes. Later, those celebrations were held in Colonial Lodge.
The first purpose-built structure to serve as St. Joseph the Worker Church was constructed in the early '60s. It was made of cinder blocks and could seat about 60 or 80 people.
But after a few decades, the parish needed more space. An addition was considered but deemed not feasible. Discussions about a new building began in 2005, and the official groundbreaking took place in 2017. The building was dedicated February 17.
It features an above-the-altar corpus – or sculpture of the body of Christ – and cross designed by Jay Hall Carpenter, a professional sculptor who was educated at The Catholic University of America. It also more than doubled the seating capacity of the former building.
"We can now accommodate about 180 people comfortably. So, we're looking towards the future." Bruce McWhinney, chairman of the pastoral council, said.
To parishioner Paulette Sabo, the new church design is simple, yet beautiful. "We have a lobby where people can visit and talk," she laughed. "[But] when you come into church it's reverent, calm and fulfilling."
Father Gillespie, who was pastor at the time of dedication, retired from active ministry in June. But he's proud to see the parish, which was also guided during the last 20 years by Father Thomas Davis, Sister Margaret Gallagher, Father William Upah and Father Columba Nnorom, grow.
"In the summer it'll start blooming. With this new, larger church here, we'll be filling it up. That's about 130 spaces. The old church … we were jammed wall-to-wall," Father Gillespie said. "The parishioners realize more and more that the church, even a beautiful one like their own, is more than brick and mortar. Their goal is to be that 'hospital' in midst of the battlefield that Pope Francis uses to describe the Church."
Video