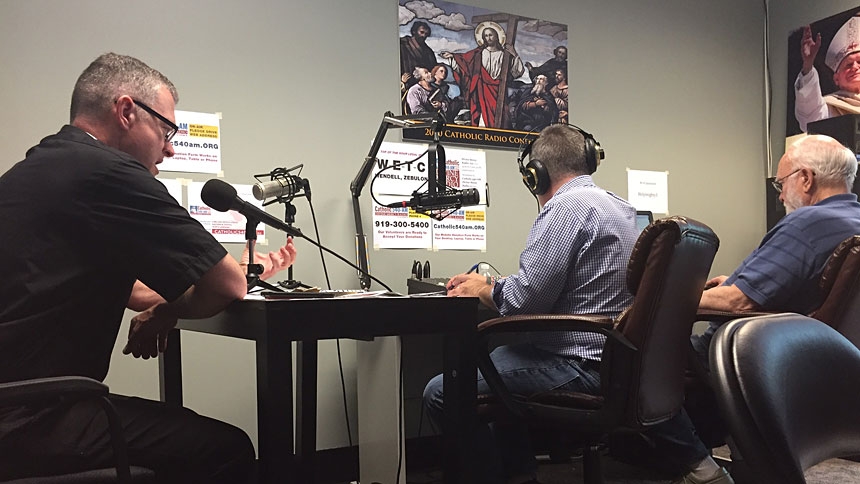 Cecelia Flanary was ready to give up. She was part of a team looking to expand Catholic radio content through their station: Divine Mercy Radio. With her husband Keith and friends Tim Stickney and Betty Rogosich, Cecelia thought things were on the right track when a station broker led them to an ideal station with a tower in Wendell.
Months later, they hadn't gotten far.  
Needing a break from negotiations, the Flanarys decided to visit the Grand Canyon. They arrived in town just as all the restaurants were closing. But one eatery near the hotel took pity on the travel-weary couple and let them in.
Everything was great until it was time to pay their check and the waitstaff were nowhere to be seen.  
Keith walked to the register at the back of the restaurant. Just then, a young woman walked out of the kitchen with a single red rose.
"Give this to your wife," she said.
"No thanks, we're traveling," Keith answered.
The woman insisted; Keith continued to refuse. Finally, when his wife approached, he accepted the flower, and handed it to Cecelia.
Her eyes brimmed with tears.
What Keith didn't know was that a month before the trip, a desperate and frustrated Cecelia turned to God in prayer. She didn't want to think about the radio debacle anymore. She wanted to simply enjoy her vacation. She asked God for a sign.
She told NC Catholics that she prayed: "I want you to send me one red rose that shows we're going to get this station and I won't worry about anything else."
After a couple weeks with no rose, Cecelia saw some humor in her request and feared that she had been too specific. She left for the Grand Canyon feeling as unsure as ever.
That restaurant rose was given to her on the first Saturday of their vacation. The following Thursday, the broker called. The seller was ready.
It might be fair to ask, "Why?" Why did this mean so much to her? Isn't radio dead? Why work so hard to ensure people can hear Catholic Radio?"
"As Catholics, we are all called to evangelize. Other than evangelizing through ourselves and through our families, we asked, 'what else could we do?' Radio seemed to be the best 'bang for the buck,'" Tim Stickney, treasurer of Divine Mercy Radio, says. "What better way to get the message out there to so many people? You don't know who's listening. You don't know who's having trouble."
Research -- compiled from 2018 Nielsen Audio Today and 2017 Pew State of the News Media studies -- shows that radio is the leading "reach" platform. Studies show that 93% of people listened to AM/FM radio. That figure is higher than television viewership (88%), personal computer use (50%), smartphone use (83%) and tablet use (37%.)
Cecelia says that even though it's hard to track who is listening, she knows Catholic radio is making a positive impact through anecdotal stories, such as a letter she received from seminarian Adam Galetti, who wrote to her about Divine Mercy's impact on him.
One of her favorite affirmations came from a simple comment by a young mother. "[She] said to me … I love the Catholic radio station because I can keep it on in the house, I can keep it on in the car, and I don't have to worry about what my little children are hearing because it's always Catholic, it's always pro-life and it's always the truth," Cecelia says.   
Now that the "why," is out there, here's the "how" about WETC and other Catholic radio stations in the diocese.  
Divine Mercy Radio, 540-AM:  WETC
What: WETC Divine Mercy Radio is a radio affiliate of EWTN, which provides around-the-clock Catholic news and programming. Each hour listeners can catch local content, including meditations from Bishop Luis Rafael or prayers led by local schools. A full schedule can be found at www.wdmr.org.
Where: In addition to streaming online, the broadcast tower in Wendell provides a signal that can potentially reach three million people in eastern and central North Carolina. The primary broadcast area includes Durham, Raleigh, Rocky Mount and Goldsboro. The secondary area stretches from Jacksonville to Danville, Virginia. Because it's AM radio, it is sensitive to radio frequency interference. Visit the website for best signal tips.
When: Though always broadcasting, WETC is a daytime/nighttime station. The radiated power is reduced by half from dusk until dawn. Making for significant changes in reception quality from day to night. Online streaming is always available.
Contact: Cecelia Flanary: ceceliaf@wdmr.org
103.3-FM: WSHP
What: WSHP is a Spanish EWTN affiliate headquartered in Cary and managed by the Diocese of Raleigh. The station is a low-power FM station. The Federal Communications Commission provides for low-cost radio signals to be used and managed by local providers for a lower cost than traditional radio stations. As a Spanish EWTN affiliate, WSHP-FM runs Spanish-language content with additional local programming such as meditations from Bishop Luis Rafael and prayers led by local priests.
Where: The station reaches an area with a radius of about three miles in the Cary area.  Listeners may visit dioceseofraleigh.org/wshp to hear the station from anywhere!
When: WSHP provides Spanish programming 24 hours a day, seven days a week.
Contact: Mark Hite or Leonor Clavijo at radio@raldioc.org
EPIC Radio 103.5-FM WFNE
What: EPIC Radio is a low-power FM station headquartered in Wake Forest. As an affiliate of Relevant Radio®, most programming comes from the Catholic Talk Radio Network. In addition to national programming, EPIC Radio provides news from Wake Forest, St. Catherine of Siena Parish and the Diocese of Raleigh in addition to local weather and traffic.
EPIC Radio also produces the Last Week Podcast with Matthew Handley which airs Saturdays. It can also be found as a podcast on Spotify, iHeartRadio, Apple Podcasts, Google Play Music and WeAreEPIC.org/LastWeek. 
Where: Headquartered in Wake Forest, WFNE can reach an estimated 70,000 people in that area. It also streams online at weareEPIC.org.
When: WFNE provides 24/7 programming for the Wake Forest area.
Contact: Matthew Handley at mhandley@weareepic.org
Wilmington Catholic Radio
What: Wilmington Catholic Radio provides programming for affiliate low-power FM stations that bring Catholic programming to southeastern North Carolina. The stations are affiliates of both EWTN and Relevant Radio® and provide a mix of content from those national sources as well as local content for the coastal audience.
One such program is Carolina Catholic, a locally-produced, monthly broadcast which highlights inspiring stories about the impact Catholics are making in Carolina and beyond. Check the website for specific schedules: www.wilmingtoncatholicradio.com
Where: As low-power FM stations, for the best reception, use the designated station for the area closest to you.
93.1 FM WBPL – Downtown Wilmington
103.1 FM WJSS – Bradley Creek
91.7 FM WJSI – Porter's Neck
100.7 FM WJSL - Southport
When: 24/7
Contact: Bill Hamilton at 910-799-9118
Video
Photos