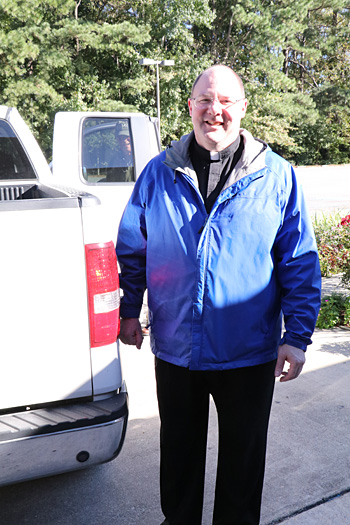 Father Nick Cottrill
Elizabeth City
Like his parishioners, Father Nick Cottrill prepared for Hurricane Florence to impact his home in Elizabeth City. It was likely. It was expected. And most forecasts predicted the storm would directly hit the tidewater region of Virginia and northeastern North Carolina, he said. Father Cottrill and his parishioners at Holy Family had water, batteries, bread and the essentials.
But the storm took a turn away from their community.
"The only damage we had here, thankfully, was pine straw across the parking lot," he said. In his homilies after Florence, he urged the faithful to breathe a sigh of relief, give thanks and bring all those unused supplies to the church. They brought that, and more.
Parishioners transported relief goods to Mother of Mercy Church in Washington and made two trips to All Saints Church in Hampstead. More trips are planned because the church hallway is still full as people continue to give, Father Cottrill said Oct. 19.
"The people responded, as they always do," he said. "We are not a big parish. We are not a wealthy parish, but the generosity of the people is overwhelming. It's heartwarming to live the Gospel message."
Read more Humanity in the Hurricane.