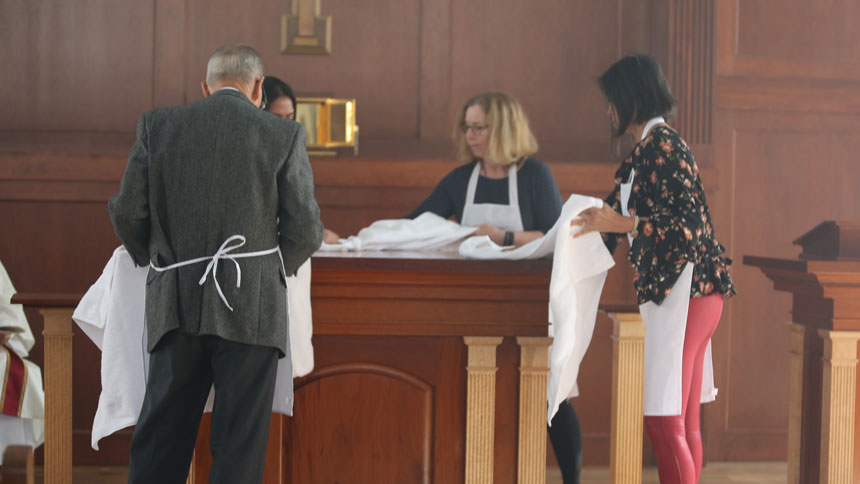 Smoke from incense, a visual representation of prayers rising to heaven, still filled the air as the faithful began to decorate the altar.
Two vases of red roses were placed on a shelf of the reredos, a decorative wood wall behind the altar. Next, lit candles were placed alongside the flowers. And, finally, the lights were brightened.
And, just like that, the community of St. Thomas More in Chapel Hill had a newly dedicated, 90-seat chapel.
The chapel, named for St. John Fisher, is part of the parish's new south campus, which is adjacent to the main campus.
St. Thomas More Parish purchased the property two years ago from the Aldersgate United Methodist Church. 
South campus also includes the Bishop F. Joseph Gossman Center, a new learning space for the St. Thomas More Catholic Preschool and a home for the Chapel Hill - Carrboro Meals on Wheels program.
During the dedication of the chapel, Bishop Luis Rafael Zarama talked about how the beautiful structure reflected the sacrifices and time of many people.
"That is an invitation for us to do the same thing with our own heart and our own souls," he said. "Come down from the 'tree,' [like Zacchaeus in the Bible.] That is what the Lord says to us in every Eucharist, 'Come down. I'd like to stay with you. I'm not passing by. I'd like to stay in your home.' And the home … is our hearts and souls."
In his closing remarks Father Scott McCue, pastor, thanked his brother priests, many of whom have roots in the parish, for their attendance. He also thanked all those involved for their time, gifts and prayers.
"God was asking us to go to deep waters to take a risk," he said of the project. "Here we will sanctify the moments of life – the ordinary and the extraordinary. Like any family that goes into a new home, we will grow in this place and figure out how to use it."  
The chapel features elements with links to the parish's history. The main doors are from the former church building on Gimghoul Road. And the stand for the paschal candle was used in the original St. Thomas More Church.
Woodworker John McGuire created many of the elements, including the altar, ambo, baptismal font, vestry cabinets and sacristan cabinets .
"All the appointments bring back some of the look of the church on Gimghoul Road," he said.
The next two phases of the project include a pedestrian connection to the main campus, and, later, additional parking to the campus that will increase spaces from 34 to 60.
Video
Photos