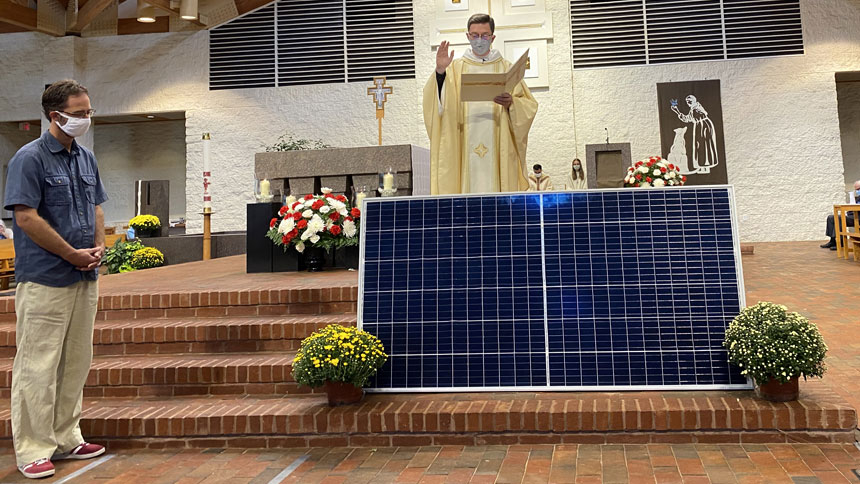 St. Francis of Assisi Church in Raleigh blessed their new solar panels Sunday, Oct. 4, which marks the feast of St. Francis, the patron saint of the parish.
"We felt it was an appropriate day to celebrate our community and also celebrate this commitment that we've made," Trevor Thompson, the director of justice and peace and a member of the solar feasibility team, said.
Masked faces in the sanctuary and online viewers at home watched as Monsignor Michael Clay, the church's pastor, led the blessing after Communion.
Monsignor Clay stood over a single solar panel in the sanctuary that represented the panels that now top Clare Hall on the campus.
"We are harvesting the energy of God's gift in sunshine to illuminate, heat and cool our buildings," he said. "This is truly a gift, as we take one more step as a faith community to live out our Catholic values to care for God's creation."
The panels will power about 40 percent of the building and will save the parish around $200,000 dollars over the next 25 years, Monsignor Clay said at the blessing.
The monsignor also spoke about how panels have a positive impact on the health of the environment.
"It is estimated that over the next 25 years, these panels will prevent around 1,500 metric tons of greenhouse gases from being emitted into the atmosphere," he said.
The parish is leasing the panels, the cost of which will be covered by the monthly utility savings at Clare Hall.
Larry Petrovick, a conservationist and parishioner at St. Francis since 1983, championed the idea of solar power at the parish.
"Sometimes, today, in faith communities, we forget about how nature is integral to our faith—everything that Jesus did was on the stage of the natural world," Petrovick said.
Petrovick said that he felt he had to do something about the climate crisis plaguing our Earth.
"There's also a benefit for the present and future generations," Petrovick said. "I mean, the generations of the present and future are looking at us right now, and they're wondering what we're going to do. And for me personally, as a Catholic, this is something I had to do."
Thompson said he hopes St. Francis Parish can help others implement solar power.
"I would hope that we can be a mentor and a resource for letting people know how this can be possible," Thompson said. "It's not as difficult as they might have imagined."