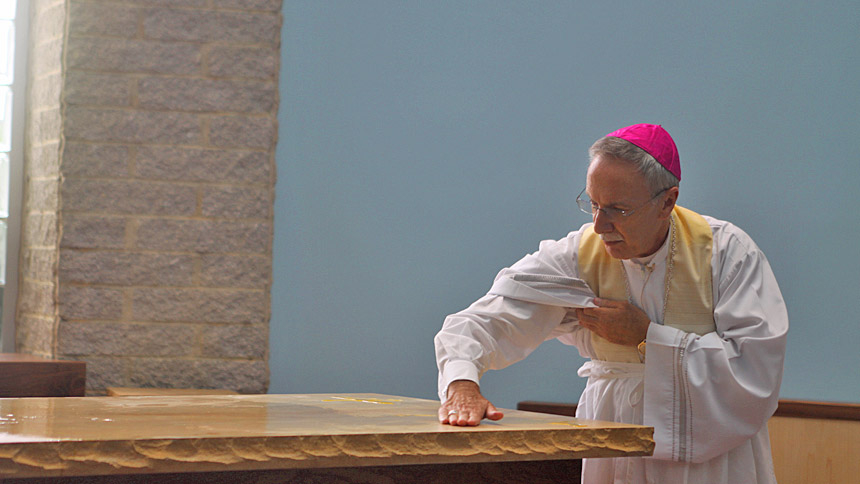 RALEIGH - On Saturday, June 12, Bishop Luis Rafael Zarama celebrated Mass at the recently renovated Queen of All Saints Chapel at Cardinal Gibbons High School.
A small group of students, faculty members and alumni looked on as the bishop blessed the new tabernacle and altar, which serves to unite the community. The bishop also visited an outdoor grotto and blessed a statue of Mary.
Father Daniel Oschwald, school chaplain, was present, as were Father Bill John Acosta-Escobar and Friar Tim Kulbicki, O.F.M. Conv., who serve on the school's Board of Directors.
"We never think about the encounter of Jesus in the Eucharistic, and that's why sometimes it is difficult for us to prepare ourselves for Mass. But how happy are we to celebrate?" Bishop Luis asked during the Mass. "I would like to thank the benefactors who made possible this new altar. You are the main reason why we are here today."
Bishop Luis also acknowledged gratitude for the chapel, which he likened to a classroom where, he said, the teacher is Jesus.
As part of the special ceremony, the bishop anointed the new altar. In Catholic tradition, the rites of anointing, incensing, covering and lighting the altar are visible signs of the invisible work that the Lord accomplishes through the Church.
Father Daniel said that the new altar furnishings were made with wood from an iconic oak tree that once stood on the school's Western Boulevard campus. Gibbons was located there from the 1960s until 1999 when the school opened a new building, its current home, on Edwards Mill Road.
He said that Peter Ruocchio, who graduated from Gibbons in 1992, was the caretaker of the wood from that tree.
"Today was a very special day for us … we had the presence of the bishop, who blessed the altar given by our alumni," said Gary Meyerl, a 1982 graduate who works as the school's director of Spiritual Life.
Meyerl added that the occasion was a reminder of the importance of the space and spending time with Jesus.
Video
Photos
Photos below by Azul Photography.