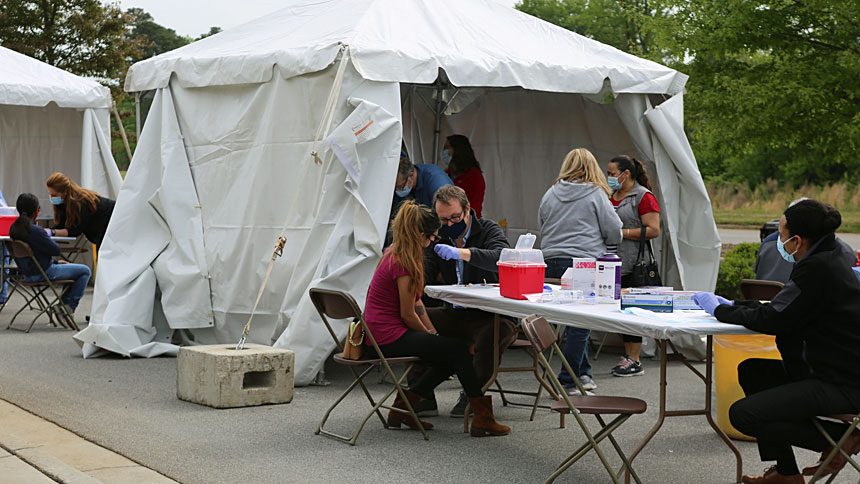 Six diocesan churches were sites for COVID-19 vaccination clinics, offered specifically to serve the Hispanic population. St. Joseph Primary Care held its vaccinations April 17 at St. Eugene Church in Wendell, Holy Name of Jesus Cathedral (Raleigh), St. Ann (Clayton), St. Catherine of Siena (Wake Forest), St. Raphael (Raleigh) and St. Michael (Cary.)
The event was named "Vaccines for our neighbors."
About 1,901 first doses of the vaccine were administered, according to Peter Le, who works for St. Joseph Primary Care and said the event was organized to serve the Latino population and help close the vaccination gap.
Most of the vaccines given were manufactured by Moderna; Pfizer was given to those between the ages of 16 and 18.
According to an April 7 vaccine equity report from the N.C. Department of Health and Human Services, the overall Hispanic/Latinx population in the state was 9.8%, while the share of vaccinations in the two weeks prior to the report was 8.2%.
Dr. Viviana Martinez-Bianchi, director of health equity at the Duke Department of Family Medicine and Community Health, said trust is essential for some in the Latino community to register for the vaccine and receive it.
For some, the encouragement of their parish priest or bishop, or their church as the vaccination site, represented that trust.
Martinez spoke recently with the diocese about COVID-19 during an April 15 Facebook interview in Spanish.
"We still see that there are more [Hispanic] people who are positive for COVID compared to other groups, so it is important that people continue protecting themselves and taking care of their children," she said.
Adela Gonzales, along with her children Jennifer and Tony, received the vaccine at Holy Name of Jesus Cathedral.
"In the beginning I was nervous, but I knew that we need it so we can go back to normal," she said. "Thanks be to God I was able to get the vaccine. There are other countries where people don't have the same opportunity … here, where many people can do it, a lot of people choose not do it and although that is a personal decision, we must do our part."
Llaneli Sosa received the vaccine at cathedral alongside her mother, Maria Bautista.
"It was fast and quick," she said about making the appointment and receiving the vaccine.
For Le, the day carried a strong spiritual meaning. "Everybody is coming together," he said, reflecting on the volunteer medical professionals, vaccine recipients and others. "The Church … we are one body with many parts."