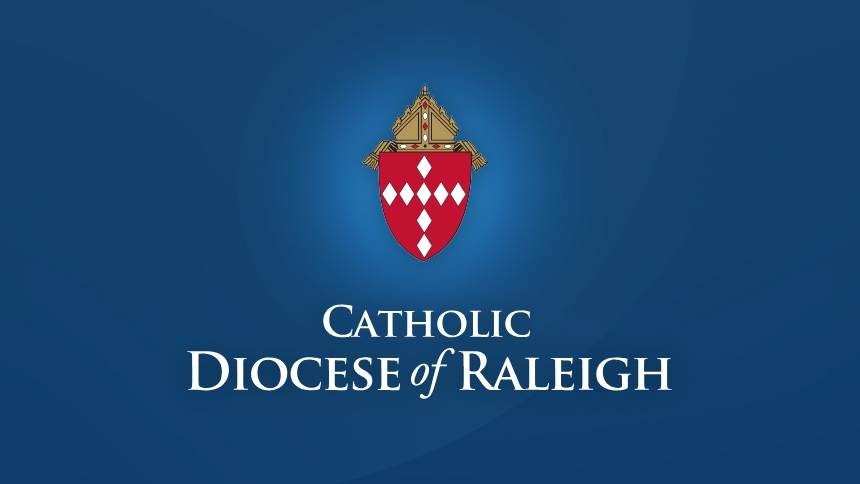 More than 20 women religious representing 10 congregations, or religious orders, gathered Saturday, Sept. 22, for an annual appreciation Mass at Our Lady of Lourdes Church in Raleigh.
The day held special significance for Bishop Luis Zarama, who was installed Aug. 29 as Raleigh's bishop, and the women religious because it was their first meeting as a group.
During the homily, Bishop Zarama shared personal anecdotes about his youth and the sisters who taught him. One story, in particular, garnered laughter from those gathered.
The bishop shared how, as a young man, he'd often go horseback riding. One sister always wanted to try, so he and his friend arranged an opportunity for her to try. The horse got a little excited, he said, and went faster than the sister expected. "She looked like the flying nun!" Bishop Zarama said, referencing the 1960s sitcom with Sally Field.
Sister Mary Jo Ely, I.H.M., a first-grade teacher at Our Lady of Lourdes, enjoyed that story and said the day was a blessing that filled her heart with gratitude.
"We were honored by Bishop Zarama's presence and by his beautiful words of encouragement [and] of love. [He spoke of] the gift of gratitude he encouraged us to have for our vocations but also encouraging us to share that gift of joy and always have that smile of Jesus on our face," she said.
At the end of Mass, the Council of Women Religious, an advisory group within the diocese, was installed. Council members are elected and commit to promote spiritual, communal and professional development among the women religious and offer counsel.
After the Mass and meeting, the sisters, bishop and other guests enjoyed lunch in the Fallon Center.