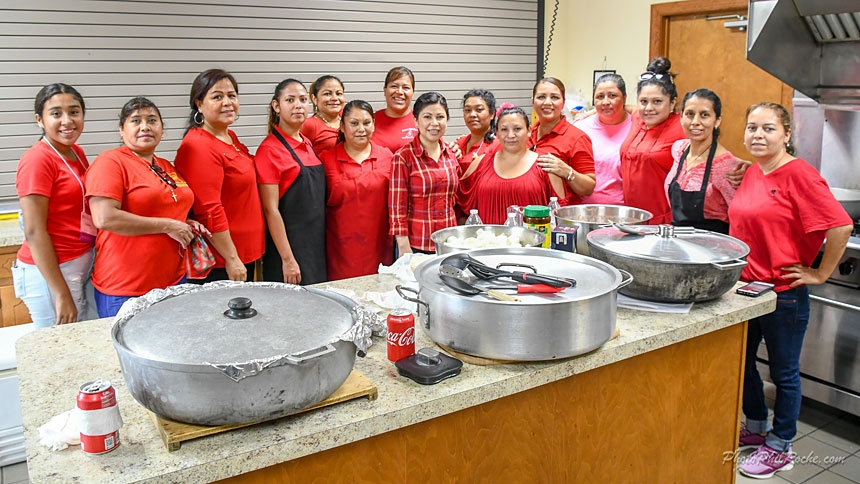 Above: Erlinda Garcia (pictured middle, in plaid shirt) stands with fellow volunteers in 2018 at the annual Catholic Encounter for Farmworkers in Newton Grove.
---
Erlinda Garcia doesn't usually say things such as "I volunteered," "I helped" or "I worked." Instead, her words are more like "I have had the opportunity to help."
As she speaks, the words flow naturally. And it seems easy to tell that she means it. The word "opportunity" is genuine for the 40-year-old mother of two from Angier.
Since 2012 she has volunteered alongside her husband and daughters at the annual Catholic Encounter for Farmworkers, which is sponsored by the Diocese of Raleigh and often takes place toward the end of summer. 
"In my heart we belong to a family of farmers," she says. "I come from a rural community in Mexico … a small community where the families survive by farming. It all depended on the rain and God's providence. We were always taught to serve and to share what God blesses us with."
She first became involved with the event because her daughters were invited to sing at the Mass, which is part of the encounter. When Garcia, who is a member of Holy Name of Jesus Cathedral, heard they needed volunteers in the kitchen, she and her husband were happy to chip in their time.
She still remembers cooking scrambled eggs for breakfast that first year and, later in the day, working with her daughter to wash and cut vegetables for lunch, as well as warm tortillas and wash dishes.
Since that first year she has taken on other tasks at the event, such as assisting its organizer and serving meals for nearly 500 people.
"It was possible thanks to God and to a talented group of generous volunteers … we have always had that," she says. "This is what the Gospel calls us to do – to serve and love. There is happiness in giving."
For Garcia, it's God's grace that allows her to serve her neighbor. And, from her perspective, all the resources needed for the encounter – from napkins and plates to fields for soccer and equipment for sports – originate with God, too.
She insists she gets more than she gives when she gives a day to the migrant farmworkers encounter in Newton Grove.
"They are my people. Just by looking at their faces I can see that they are thankful and happy. I have long discovered faith through their humility. It makes me happy to accompany them while their family is away," she says. "They know that they have a family here [in the U.S.] while they are away from their family. I know they don't say much, but they are happy. I know they are shy because I am one of them."
Watch the video
Ever wonder what life is like for some of the 150,000 migrant farmworkers who come to North Carolina on work visas each year? How do they get to Mass, wash clothing at a laundromat or purchase groceries when they don't often have transportation?
Ever wonder how parishes, such as St. Bernadette in Fuquay-Varina and St. Ann in Clayton, assist them through migrant ministries?
Watch 'Anything we can do.' Video by Evan Fritsch. 
Help at the event
Catholic Encounter for Migrant Farmworkers
Our Lady of Guadalupe, Newton Grove
Sunday, Aug. 11, 8:30 a.m. – 6 p.m.
If you would like to volunteer at the VIII Catholic Encounter for Farmworkers, please contact the Office of Evangelization and Discipleship at 919.821.9771. Volunteers – including doctors, nurses, hair stylists and others – are needed.
Photos