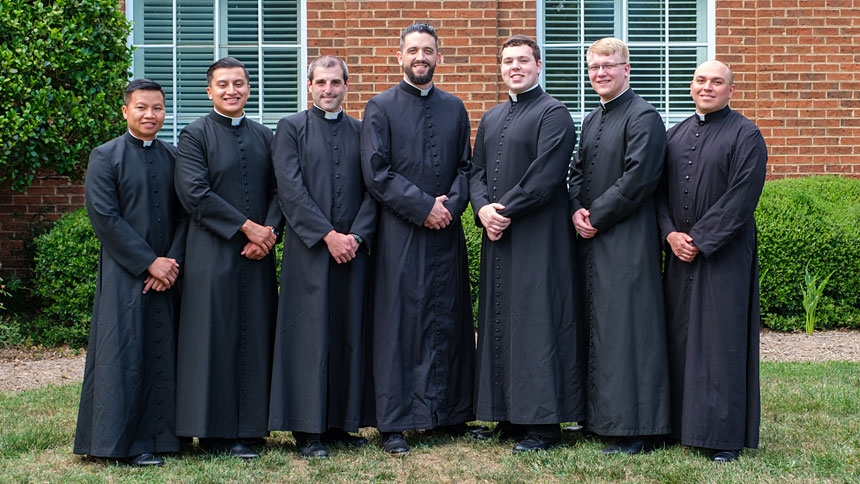 Bishop Luis Rafael Zarama celebrated Mass with Rite of Admission to Candidacy for Holy Orders for the following seminarians: Andres Arevalo, Adam Galetti, Cong Le, John Lewis, Nicolas Rapkoch, Rogelio Raya and Ross Williams.
This Mass is an important occasion whereby the Church recognizes that the seminarians are acceptable to continue formation, and the seminarians declare they are ready to resume their preparation for ministry within the Church.
"The challenge for you, who are young, is to have the freedom to feel good about who you are," said Bishop Zarama. The bishop explained that we need to clean out the clutter of pain, frustration and suffering in our hearts to make space for Jesus to consume us with love.
"You can go back to the seminary, get good grades and impress the people," he said. "But if you miss the freedom of your soul to be loved by Jesus, you miss the call to the priesthood because it's not a learning thing. Yes, it is necessary, but you need to have the freedom to open yourself to the true call which is helping Jesus to spread the Gospel."
Bishop Zarama wished the men good luck with their education and formation.
"But don't forget that we are watching you, to see how your hearts were able to grow in holiness and love," Bishop Zarama said. "That is the key. You can have a C [in the classroom], that is OK with me. But if you have a C in your heart, it is not OK with me."
"Find the freedom to see your lives and yourselves as Jesus sees you - in the eyes of love."
Learn more about the seminarians
Video