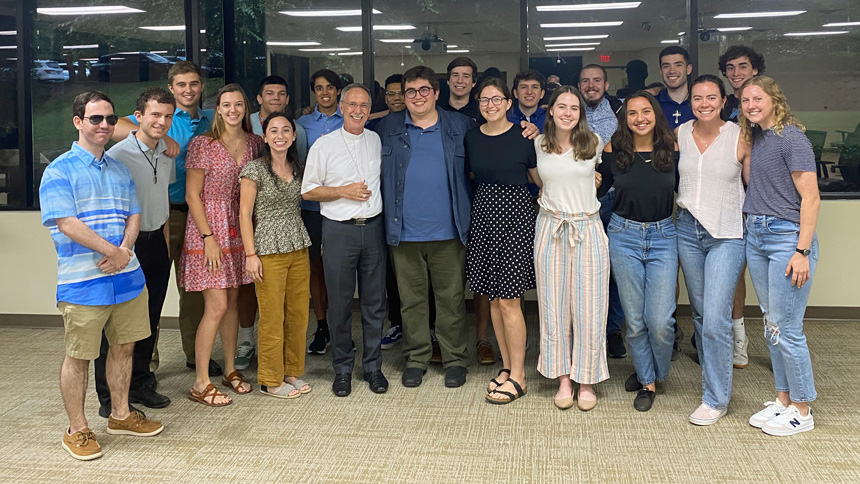 Abigail Ward remembers visiting the Catholic Center last year to talk with Bishop Luis Rafael Zarama. As assistant director of Catholic Campus Ministry at North Carolina State University, she attended that meeting with about 20 CCM members.
They had a question-and-answer session and took a quick photograph to commemorate the occasion. As they were leaving some students had an idea. 
 "A few students were chatting about how cool it would be to have an event where students in all of the college campus ministries could come together with Bishop Luis," said Ward. "Right there our idea was born!"
Slowly but surely, she said, volunteers worked and began to see where and what would be needed for this idea, with food, games, music and Mass. They expanded the circle for potential attendees to include high school seniors in addition to college students.
As far as activities, there's also, organizers said, room for spontaneity and opportunities for Eucharistic Adoration, Confession and simple outreach.
"Father John [Curran, L.C.] has been a huge driver of seeing this event come to fruition," she added. "Without his vision and persistence, this event would not be happening! No matter the capacity, I think that everyone who has helped this event happen has shared the same desire to have a space where we can come together as a larger young adult community of faith. 
Scheduled for Saturday, Sept. 23, the event lasts from 4 – 8 p.m. at Holy Name of Jesus Cathedral. More details may be found online.