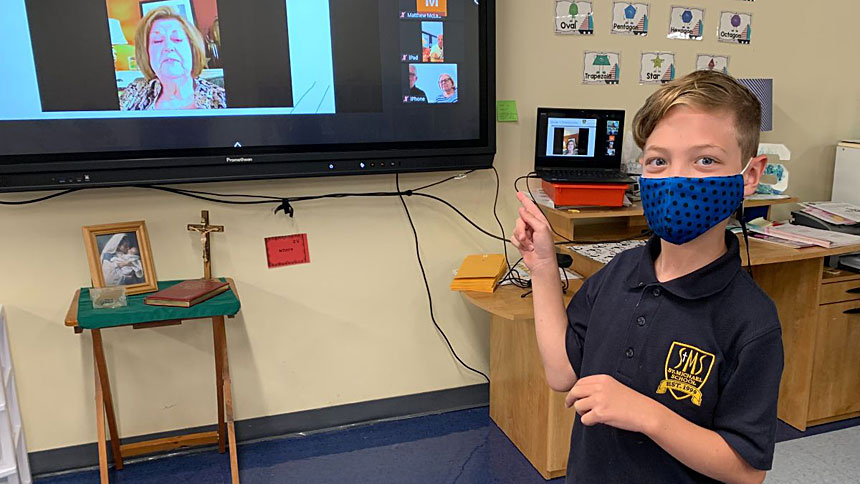 St. Michael the Archangel Catholic School celebrated a virtual Grandparents' Day. Teachers and students joined a live video call with nearly 600 grandparents from throughout the world. Students greeted grandparents and, in some cases, grand friends, from India, France, Italy, Brazil, Australia, Nigeria and Mexico.
Each class recorded creative messages and songs for the grandparents to thank them for their love and support. One grandparent remarked, "It was a wonderful way to hold a special day under the circumstances. I enjoyed every minute. I was in tears many times. My grandkids are lucky to be attending this school."
Grandparents shared heartfelt grade-school memories and wise advice in short video recordings, which were shared with all PreK - Grade 8 students.  
"We are so grateful so many important guests joined us for this special opportunity to celebrate St. Michael School Grandparents' Day virtually," said Tara Navarro, principal.
In a letter to parents, Navarro shared one grandparent's reflection translated from Italian into English:
"We understand more about the place their parents have chosen for their education, not only academic, but also human and Catholic. It was also nice to see and realize that we are not the only ones living distant and not being able to be together in person.
"Many grandparents were connected from various parts of the world, with their languages and their cultures. The fact that we were all together attending this meaningful event made us feel united with all the other grandparents with the same desire to stay together with our grandkids and become more familiar with the Catholic school environment they experience every day.
"It was clear to us that the school embraces the desire to teach to live life with more humanity. Every day Jesus teaches us to always love each other, and we have read this experience of the Grandparents' Day with the intention to be attentive and united, through a school that educates our grandkids and reminds them what is most important in their life, including their family origins."