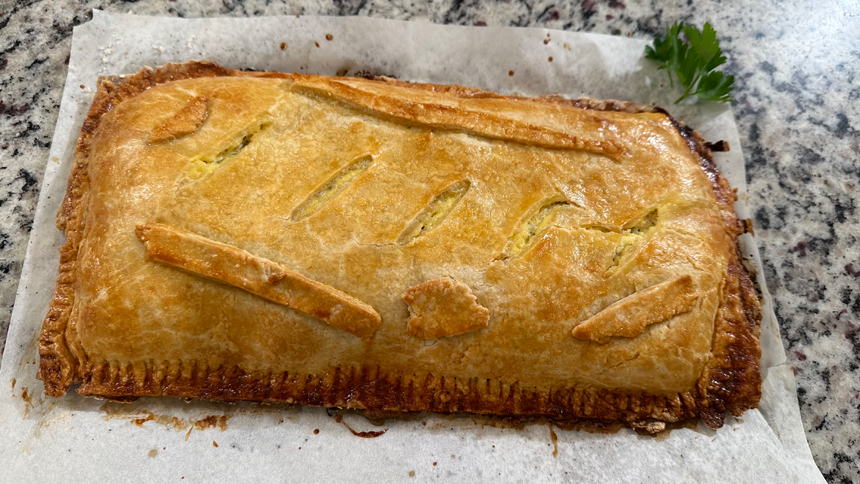 It's May and Father Jim Sabak, O.F.M. wants Catholics to remember that the Easter season is still here. It began on Easter Sunday and lasts 50 days. 
"We need to keep celebrating it," he said on NC Catholics NOW as he taught viewers how to prepare his family's recipe for pizzagaina, which is a type of savory pie and is one of the foods that goes into the celebration of the season, which lasts until ordinary time begins May 29.
"It goes back to … the 1500s or 1600s. It's Southern Italian, primarily from Naples … it was to celebrate the end of the great fast that was Lent then. We don't have a great fast in the same way nowadays, but the whole of Lent was a fast back then. So no meat … cheese, eggs, dairy. So what you did was stuffed it into some bread on Easter to celebrate and to be able to reclaim that which we lost during the Lenten season," he said.
Father Jim shared the recipe in case this tradition is one you'd like to bring to your home.
Ingredients
For the crust *enough for two pies
3 cups all-purpose flour
3 Tbsp sugar
3 eggs
½ cup shortening (we used Crisco)
1/8 cup whole milk
For the filling *enough for two pies
10 thin slices of prosciutto, finely chopped
2 pounds Italian sausage, out of the casing, chopped finely and cooked
2 pounds ricotta cheese
1 small mozzarella cheese, grated
½ cup grated parmesan cheese
¼ cup chopped Italian parsley
4 eggs
1 tsp salt
¼ tsp black pepper
For the topping
1 egg
1 Tbsp milk 
Instructions
Mix the flour and sugar together, make a well in the center. Add three eggs, shortening and milk. Mix together until dough is easy to handle. Divide in half. Roll out one portion and fit onto 9X13 baking pan. Cover remaining dough for later.
In small bowl, beat four eggs.
In large bowl mix the cheeses, prosciutto, cooked sausage, parsley, salt and pepper. Mix in beaten eggs and spread filling into crust.
Roll out remaining dough and fit on top of mixture, seal edges with fork impression, cut slit(s) for venting on the top. Brush top with topping mixture, which is one well beaten egg and 1 Tbsp milk.
Bake for 40 – 60 minutes in a preheated 350 degree oven until crust is golden brown and filling is firm. Remove from oven and let it cool for at least 15 minutes so filling can set inside the pastry and not run.
Each pizzagaina serves about 10.