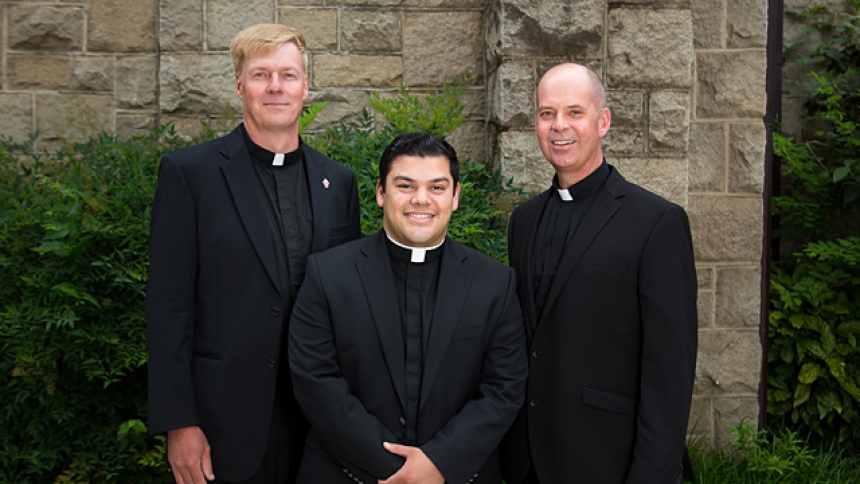 Ask any new Catholic priest about the path to a vocation. You'll likely hear him use the word discernment. The process is different for each. In some cases, it's hard to point to a defining moment when he knew he was hearing a call to the priesthood. In other cases, it's easier to find one point in time.
The Diocese of Raleigh welcomed three new priests June 23. Father Michael Coveyou, Father Chris Koehn and Father Marlon Mendieta were ordained at Holy Name of Jesus Cathedral in Raleigh. Recently, they talked with NC Catholics about their early lives and their discernment.
Father Michael Coveyou
The road to discernment included twists, turns and what Father Michael Coveyou calls, 'tiny conversions.'
Born and raised in Petoskey, Michigan, he was raised by his father – who grew oats, wheat and other grains on their family farm – and his mother, who was originally from Poland.
The second of four children, he grew up in a Catholic family, went to Catholic school and originally felt the call to priesthood in middle school. He even filled out an information card left at his school during Vocations Week.
"I was maybe 11 or 12," he laughed. "I got a letter back from the Franciscan Community saying, 'You're kind of young, but if, in a few more years, you still think you have a vocation, look us up.'" 
At that time, he could not have imagined that he would go to college in his home state, study computer science, live in Florida and Arizona, marry, become a father of two boys – Tim and Matt – and then become a priest.
Today, Father Coveyou hopes his life experience may help him minister to others.
"Having been through a divorce and annulment, I understand that," he said. "The different joys and challenges of married life and of raising children, I can see things from maybe a different perspective."
Throughout his life, despite the turns he took, the thought of priesthood was always present. He credits that, in part, to the portrait of his great uncle Walter, which was displayed prominently in his living room. Father Walter Coveyou, C.P., was a Passionist priest killed, Father Coveyou said, by communist revolutionaries in China in 1929. "Seeing that portrait all the time and talking to Mom and Dad about him … inspired me," he said.
He also took inspiration from his son Matt who, at around 10 years old, offered words of encouragement.  
"We were on the way home from church, just talking about sports and other things … in the middle of the conversation, Matt just stops and turns to me and says out of nowhere, 'You know Dad, you'd make a great priest,'" he said.
His thoughts often turned to the priesthood, and 'tiny conversion' moments helped keep him strong.
"I think that was God's way of letting me know, 'I have a mission for you, but that mission might not be quite yet,'" he said.
Once both his sons were young adults, he sat down, again, with a vocations director. This time, his path was clear.
Though he hopes that his life experiences will help inform his ministry, he has been careful to consider a line he doesn't want to cross.
"I don't want my whole ministry to be about my family or my children, but I can draw things from my experiences to help in my ministry," he said.  
For example, he said he received appreciation after a Mass in which he related a Gospel about loving God and loving neighbor to Lego building blocks and how the bricks support and build bridges of love.
"The choir director said that her sons normally have a hard time paying attention, but when Legos were mentioned, they perked right up," Father Coveyou smiled.  
- Mandy Howard
Father Christopher Koehn
When Chris Koehn was a boy, his family was looking for a new home. It was 1971, and his dad had recently retired from the Air Force. The Koehn family – which included four sons – was moving to Newport News, Virginia. And one particular house they looked at had a garage with two sports cars – a Porsche and a Volkswagen Karmann Ghia.
Chris asked his dad what the homeowner did for a living. The answer: accountant.
"I thought those were the best toys ever," he said. "So I immediately wanted to be an accountant."
But he had some growing to do first. In elementary school he volunteered with safety patrol and enjoyed cleaning the classroom fish tank. As a teen, he went to a camp run by the Redemptorists, a Catholic order, in Pennsylvania. They invited him to attend their high school seminary, but he was focused on life at home.  
He went to public schools instead and played baseball and basketball. He liked school so much that before a new school year began, he'd walk to the building and talk to the painters as they worked.
When it was time for college, he chose James Madison University, where he studied accounting and American history. He also chose his faith.
"My faith came alive in college. In high school I went to Mass with my parents … but, in college, there was a campus minister there who took everybody in and put us to work," he said. "My first day there, the priest made me an usher … [and] I left college knowing I'd always be an active Catholic."
The campus priest invited him to seminary, but again he said "no." He moved back to his hometown and worked in public accounting and, later, corporate accounting for a hotel group.
He made daily Mass a necessary part of his day. His co-workers often commented that he was "nicer … and more patient" when he came back from Mass.
"A lot of people on hotel projects and in offices, they'd ask me to pray if they had a son who was being deployed … [or] a loved one who was sick," he said. "It's nice because then they're not just the pipe fitter on your job. Now you know that they have a child who's sick. And it brings some humanity to working with somebody."
In his 20s and 30s, he accumulated all the "stuff" he was intent to own – from a home to the sports cars. But it wasn't as he imagined.
"It wasn't as fun," he laughed. "[And] the times I declined the seminary always kept coming up."
Sometimes, during a workday, he wondered if God wanted him to spend his life working on financial statements. He had serious girlfriends over the years, but he was determined to take a slow path to potential marriage, and the timing and circumstance were never right.   
In 1999 he moved to Raleigh. Sacred Heart [then] Cathedral became his home parish. Every time he went to Mass, he walked by the Vocations Office. And he befriended Monsignor Jerry Sherba and Father Jonathan Woodall, whom, he said, were both joyful in their faith.
By 2012 he stopped focusing on the next home project or the next hotel, tasks which had kept him from seminary. At age 46, he was accepted by the Diocese of Raleigh and Boston's Pope St. John XXIII Seminary, a seminary for second-career vocations.
"I had a very untroubled discernment process at seminary … very peaceful," he said. "I do think if I would have said 'yes' earlier that would have been a downfall of always thinking I missed the 'American Dream.' But I went out in that world and found that, for me, it wasn't fulfillment for my spirit." 
- Kate Turgeon Watson  
Father Marlon Anibal Mendieta-Rodas
Father Marlon Mendieta Rodas is a bilingual North Carolinian with Honduran roots. A native of Rose Hill, he first experienced a draw toward the priesthood when he was in 6th grade. His parish priest at the time, Father Tim Meares, had invited him to get involved in altar service on Sundays.
Young Marlon began to serve and noticed that Father Tim had a "genuine happiness."
"I was so confused because he had no car, no wife, and not much money … he lacked so much of what the world says you need to be happy, but he was one of the happiest guys I knew," he said.
With that one example of priestly life, Marlon began to think. Later, in high school, he watched as his friends decided on universities. He wrestled with the recurring thought of going to seminary.
"In my senior year, the thought of becoming a priest came back, and it wouldn't leave. Some days I could envision it well, seeing myself saying Mass and hearing confessions," he said. "But other days I couldn't."
Unsure of what to do, he booked a trip to Philadelphia to visit St. Charles Borromeo Seminary. That experience confirmed his calling, and he enrolled for the following semester.
Looking back on his time in seminary, Father Mendieta says that one of the most pleasant aspects of it was the incredible love and hospitality of his fellow Catholics.
"The people were good to us. You can tell they love their seminarians and priests, and I felt that love very much over the course of eight years," he said. "People invited us into their lives and their homes, and that was an incredibly humbling and beautiful aspect of seminary."
Today, at age 26, he's the youngest priest in the diocese and recently began work at St. Patrick Catholic Church in Fayetteville.
"After eight years of studies, I'm excited to apply everything. I want to help people be the best they can be in their spiritual lives," he said.
Father Mendieta's passion for helping build up God's people is both evident and contagious, and he does not take his responsibilities lightly. 
"The moment you make those promises, you feel the weight of responsibility on your shoulders. It's not a crushing weight, but rather a 'this is the real deal' kind of weight. You can't treat this as a regular job, because it's not a regular job. It's a vocation."
- Evan Fritsch