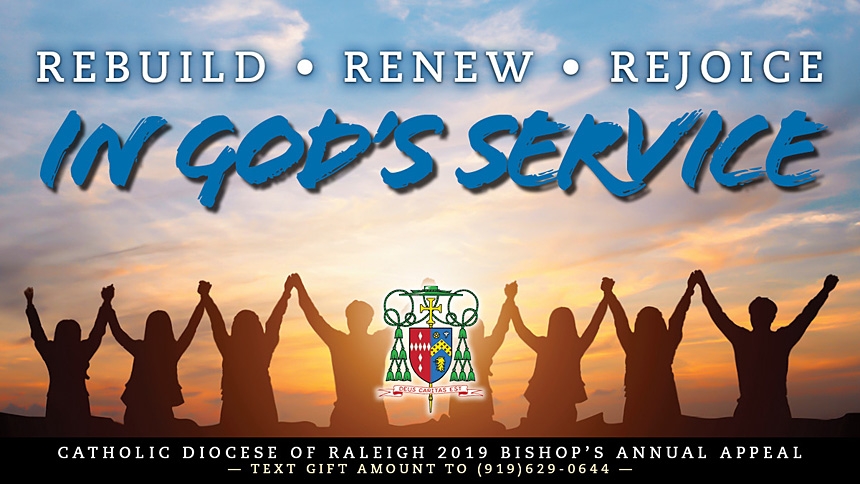 The 2019 Bishop's Annual Appeal (BAA) has begun in parishes across the Diocese of Raleigh. The Bishop's Annual Appeal supports more than 30 ministries helping the 96 parishes and missions across the Diocese of Raleigh serve those in need. The theme for the 2019 BAA is Rebuild, Renew, Rejoice in God's Service. View the 2019 BAA brochure (PDF).
Brothers and Sisters in Christ, 

We have faced several storms during the past year that have shaken our communities, and our Catholic faith. As your shepherd I am walking with you as we work to recover from these storms.

In the Diocese of Raleigh, the annual appeal helps me fulfill this responsibility in supporting pastors to do God's work in each of our parish communities. None of us can do it alone. Together, we will renew our faith and hope - and we will rejoice that we are a growing Church in Eastern North Carolina.

Thank you for your faith, your kindness, and your prayers and for welcoming me as your Bishop.

In Christ,

† Luis Rafael Zarama, J.C.L.
Bishop of Raleigh
We invite you to explore the BAA webpage to learn more about the impact of your generosity to the campaign. Thank you for your support!
---
Gracias por su fe, su amabilidad y sus oraciones y también por darme la bienvenida como su Obispo.

Las tormentas que sufrimos el año pasado sacudieron nuestras comunidades y nuestra fe católica. Caminando junto a Ud., trabajamos para recuperarnos de sus efectos.

La campaña anual de apelación me ayuda a apoyar a los sacerdotes de la Diócesis de Raleigh a hacer el trabajo de Dios en cada una de nuestras comunidades parroquiales. Ninguno de nosotros puede hacerlo solo. Juntos renovaremos nuestra fe y esperanza; juntos nos alegraremos de ser, en el este de Carolina del Norte, una Iglesia que crece cada vez más.

En Cristo,

† Luis Rafael Zarama, J.C.L.,
El Obispo de Raleigh