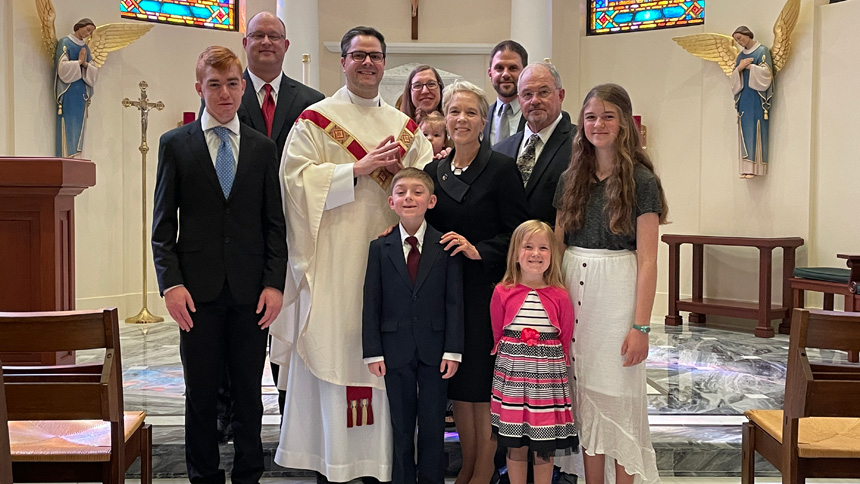 When Diane LeVeque started her career as a postal carrier more than 30 years ago, she was one of two women at her station in Michigan. Back then mornings began with a postal Jeep that helped her deliver the mail and warm coffee made by her husband John.
Prayer and family were important in her life then, and now. It's why she felt drawn to a Catholic church as the location to formally begin her tenure as Raleigh's postmaster, a role that calls on her to oversee about 700 U.S. Postal Service employees and more than 252,000 daily delivery points.
On Monday, Aug. 8 LeVeque and her family, including sons Jesse and Shaun and daughter-in-law Michelle, celebrated Mass at All Saints Chapel in Holy Name of Jesus Cathedral. Her five grandchildren were present; two of them were altar servers and one shared a reading. Father Michael Burbeck, vicar general for the diocese and pastor of St. Michael in Cary, was the celebrant.
"I wanted to observe today with Mass, in Thanksgiving," LeVeque said. "Father Michael is my parish priest, and he's such a gifted priest. It's an honor to have people from my postal journey and my faith journey together today."
After Mass, LeVeque was installed as the 31st Raleigh postmaster during a ceremony outside. Her home parish was represented; its director of music, Alex Hill, sang the national anthem, and musician John Roth played the trumpet. Father Michael gave the invocation and the benediction.
Some of LeVeque's postal colleagues in North Carolina spoke during the installation. Michael Amory, manager of post office operations in Fayetteville, Justin Henderson, postmaster in Charlotte and Russell Gardner, district manager for the state, each shared thoughts about LeVeque's passion for people, ability to problem solve and fairness.
For the oath, LeVeque placed her hand on a family bible, which also held memorabilia from when the Mother Teresa stamp was issued in 2010. Afterward she spoke about her excitement for the future and quoted a 1999 letter from (then) Pope John Paul II to artists. In it he recalled the words of Polish poet Cyprian Norwid.
"Beauty is to enthuse us for work, and work is to raise us up," Leveque said, quoting the poet.
She went on to thank those who impacted her on her professional journey, which began in Michigan, continued in Wisconsin and brought her to North Carolina in 2017.
"The postal service delivers to every home and every business in America … we take pride in this," she said, noting the importance of keeping people connected. "By God's grace I am here today."
Photos