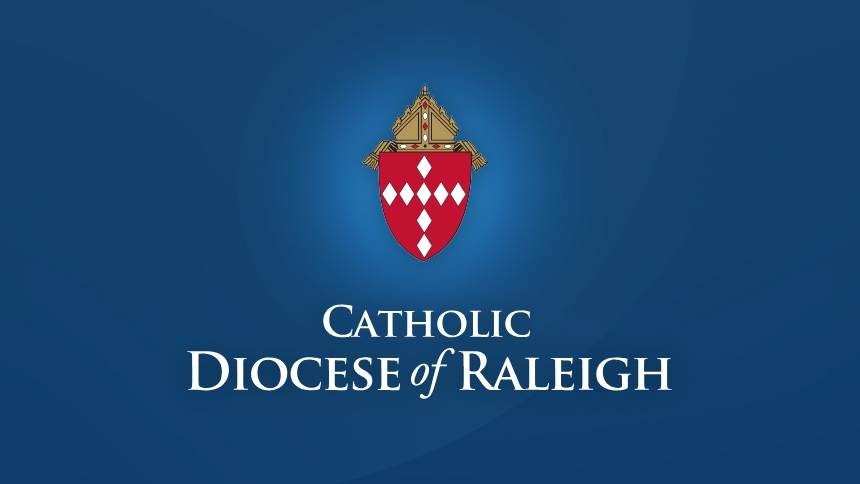 Above: The Zarama family gathers in Atlanta for Bishop Luis Zarama's ordination to bishop in 2009. Maria Teresa Zarama, his mother, is pictured at far left with her husband, Rafael, next to her.
If you ask Maria Teresa Zarama, 80, why she hoped for her son to be the sixth bishop of Raleigh, she will give a mother's honest answer.
"Because it's close," the Florida resident laughed during an interview with NC Catholics.
Mrs. Zarama spoke to the magazine recently and shared her thoughts about her son's early life in Colombia, ministry and how they enjoy spending time together today.
NC Catholics: What was your eldest son like as a young child?
A 1960s-era photo of Maria Teresa Zarama with her husband, Rafael, and eldest son, Luis.
Maria Teresa Zarama: When he was a child, it was kind of rough on him because he had two younger brothers. When he was three [years old], one [brother] was two, and the other one was almost one. Luis was the oldest but [still] small. You know? A three-year-old boy is a baby still, right? Then he had to deal with two brothers and one sister more. [laughter]
He was very helpful, you know, bringing a toy [to a sibling]. He had a very good and big heart even though he was so little. He was never jealous.
NCC: You mentioned that school wasn't his favorite place to be as a child. What would he rather have been doing?
MTZ: Being at the farms. Riding horses. He loved that. The family had maybe two or three small farms. Some of them were dedicated to beef … other ones were for crops like potatoes, barley, wheat. You know … all my kids were very independent. He had a cousin almost his age. We used to go every Saturday to have lunch [with extended family] in my husband's father's house.
[Luis and his cousin would] disappear after lunch … exploring the city. They found a building where there was - for the first time - an elevator. They were exploring how it worked … up and down. We weren't worried about it. We knew they were out and that was fine. They used to go grab a bottle of water and a walking stick and just walk to the farm and there they had fun like crazy. They [would bother] the guy that drove the tractor because they wanted to drive it themselves.
NCC: You said that the tractor driver and your son met again decades later. Tell us about that.
MTZ: When we went to Pasto [Colombia] for his first Mass there as a bishop, the driver of the tractor was at the Mass. My son … and this guy who was a young guy before, but now with his hair all white. They embraced each other, and Luis said, 'You know I am sorry for all the trouble I caused you when I was young.' Because, of course, they recognized each other [even though] the church was completely full! It was awesome.
NCC: You said you had two neat stories from that first visit he took as a bishop to Pasto, Colombia. What was the other one?
MTZ: He got a medal from the governor. He had another medal from the city. He was laughing so hard and said, '[For] the first time in my life, I have so many medals. When I was in school I never got one.'
NCC: Did your family have any tried-and-true traditions when he was younger?
MTZ: At Christmas we had the tradition of the novena, and we got everybody together and sung.
NCC: Think back to when he told you he was going to seminary to study for the priesthood. How did you feel?
MTZ: I wasn't very happy about it because … he is my oldest and [I thought] 'he's not going to have any kids of his own?' I was so sad. But then it didn't last too long because then I realized … the [many] people he was going to work with and minister to! So, then, I was happy.
NCC: Tell us about the day he was ordained a priest. Do you remember it?
MTZ: Oh my goodness, yes. I couldn't believe it until the consecration of the Host. Then it hit me that he was really a priest. My mother was still alive [then.] We were like in a trance … like 'It's him, but is it him, really? Is it our son?'
NCC: What did your husband think that ordination day?
MTZ: He was not a very big talker, but you could see how moved he was.
NCC: When you spend time with your son today, what do you do?
MTZ: When he's here [in Florida] he helps me in the garden … he's all sweaty and dirty. [My family goes] to Disney. We avoid summer, but we love to go during the good weather. Epcot is beautiful. That's our favorite part. Just to walk around and look at the gardens.
NCC: Is there anything else you'd like to mention?
MTZ: I don't know if I said too much already. [laughter]
Since the beginning everybody say he is a people's bishop, and it's true. I remember when he went to Clarksville [Georgia] as a bishop for his first Mass. [After Mass] … Do you know how long he was outside? He was four hours outside [talking to people and giving blessings]. That's the way he is. He stays outside till everybody leaves. He is always laughing. He is great with kids. Yes. I mean, that is a gift that he really has. I am humbled by the son that God gave me. I am sure with God's help, he's going to be awesome as bishop of Raleigh.