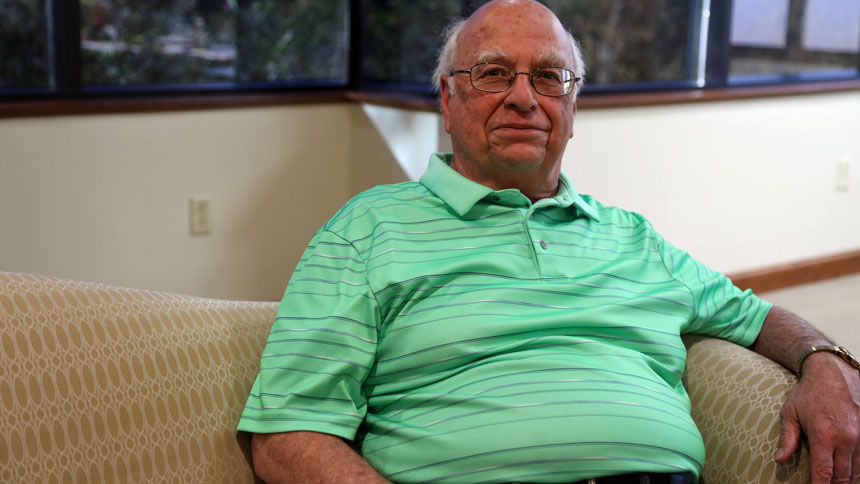 As a priest of La Salette order for 47 years, Father Robert Ippolito wanted to help immigrants. It was important to him because his great grandparents were immigrants.
Father Ippolito is leaving the Diocese of Raleigh to become a full-time immigration specialist for Catholic Charities in Houston, Texas.
In addition to his family's history, Father Ippolito's service in the diocese also helped to draw him toward immigration work.
For example, in 2005 he was pastor of St. Brendan the Navigator Parish in Shallotte, which is in the southeastern part of the state. During that time, he oversaw the construction of a new building and an increase of parishioners, too.
"Our parish grew and so did the Hispanic community. Therefore, in 2009 we decided to start a citizenship program because we had several parishioners who were Lawful Permanent Residents," Father Ippolito says. "I started helping lawful residents to complete their application to become citizen and started to get more and more involved in immigration work, even started to deal with more complicated situations."
He adds: "We used to ask this lawyer questions about immigration problems we had, and she would tell us we were practicing law without a license. One day I just told Sister Rose Ann, who works with me, 'Let's get a license.' We started taking courses and studying to get certified to do immigration law."
Father approached Catholic Charities about sponsoring him so he could work under their supervision and assistance.  In order to obtain this certification, one has to demonstrate a sufficient knowledge of immigration law.
In 2010, Father Ippolito, moved to St. Stephen the First Martyr Church in Sandford to become pastor along with Father Hector La Chappell, M.S.
On September 2, 2011, Father Ippolito was officially certified as an Immigration Specialist, which is a certification by the Department of Justice, Executive Office for Immigration Review, as an accredited representative to the Board of Immigration Appeals.
This certification allows a person who is not a lawyer to do all immigration work except represent clients in immigration court. Since then, Father estimates that he has been able to take over 5,000 cases.
His immigration services became very popular among the immigrant community, specially immigrants from Mexico and Centro American living in North Carolina. People came to see him from Charlotte to the Outer Banks, too, he added.
Father Ippolito said that Catholic Charities' services are very affordable.
"Lawyers are very expensive, and some people don't have a lot of money. That's one thing and then secondly is they get my name from somebody that they know I did a case for them and it turned out very well, so they call me," he says.
He never expected to be ministering in this important area of advocacy, he says, but it seems that "God wants me to use my talents to help the poor and defenseless."
But providing immigration assistance to those in need was not the only main thing that Father Ippolito did during days as a priest in the Dioceses of Raleigh.  From his first few as priest-in- residence at St. Stephen, Father Ippolito committed to providing for the construction of a new sanctuary to complete the construction plan.
In 2018 the construction began and on March 5, 2019 Bishop Luis Rafael Zarama dedicated St. Stephen the First Martyr Catholic sanctuary for this dynamic community of faith.
"I hope I left them with a parish that was better than when I found it and that's the purpose of going anywhere as you try to build on what was done before and to leave the place a better parish than when you found it and of course both," says Father Ippolito.
Photos