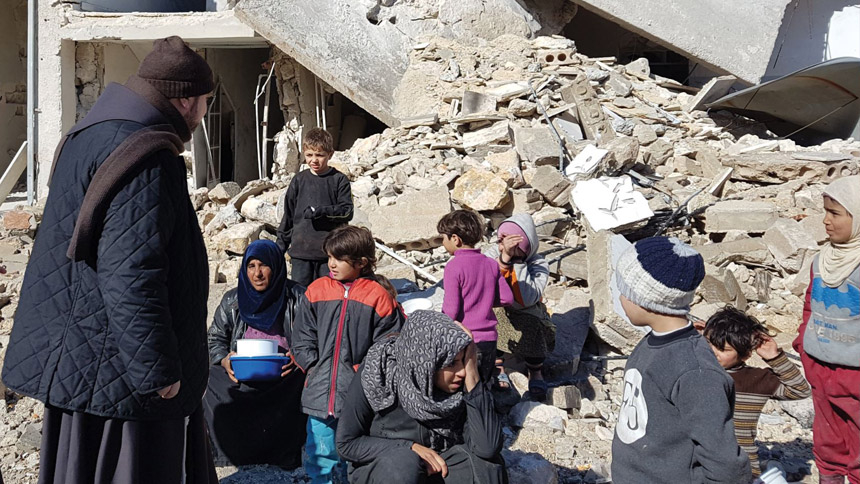 Eight hundred years ago, the Church entrusted the guardianship of the Holy Land of the Christian religion to the Holy Land Friars of the Order of St. Francis. The friars' work helps preserve the holy places and makes it possible for Christians to remain in the land of Jesus. As Pope Francis has said, "We will not resign ourselves to imagining a Middle East without Christians."
Each year through the annual Pontificate Good Friday Collection, funds collected provide for pastoral care, schools, housing, employment, refugee assistance and services for the vulnerable young and elderly. The funds also support the sacred shrines which are visited by more than 1.5 million pilgrims annually.
This year, the parishioners in the Diocese of Raleigh contributed more than $75,000 to these efforts. In a recent letter, Fr. David Grenier, OFM, Commisariat of the Holy Land USA, thanked Bishop Zarama on behalf of the Holy Land Christians and the pilgrims who benefit from the Pontifical Good Friday Collection. "While times are still challenging for so many throughout the world," wrote Fr. Grenier, "please know that the prayers of the friars are with each one of you and your families."
The Franciscan Monastery in Washington, DC, is home to the Holy Land Franciscan Friars. The Franciscan Monastery of the Holy Land in America has been named as a top place that most tourists miss when sightseeing in Washington, D.C. The faithful are invited to take a break from the museums, monuments, and memorials in our nation's capital and make a "pilgrimage" to the Franciscan Monastery. There visitors may find peace in the monastery church and among the replicas of Holy Land shrines and enjoy the recreation trail through the monastery's century-old gardens with replicas of sacred shrines.