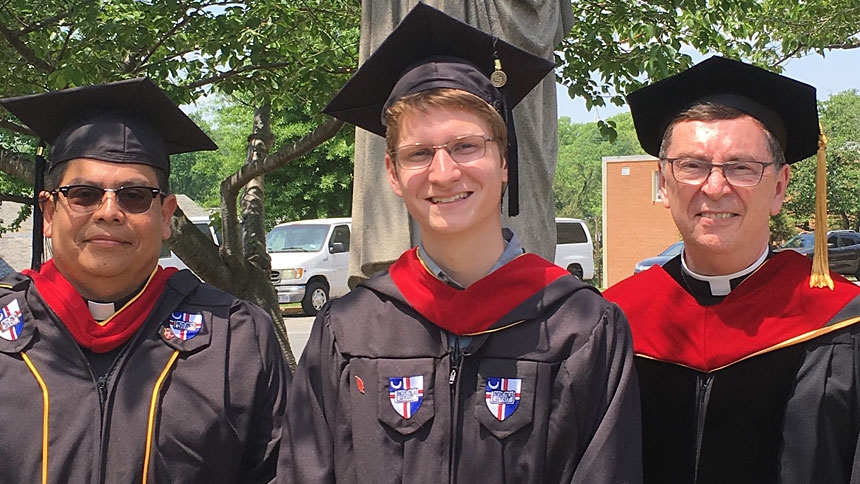 Above: In 2018, Fr. Rafael León of the diocesan Marriage Tribunal received a licentiate in Canon Law and Mr. Christopher Neyhart of St. Thomas More in Chapel Hill received a bachelor's degree in Theology. They are with Rev. Monsignor Michael Clay, associate dean and associate professor in the School of Theology and Religious Studies.
---
Diocese of Raleigh parishioners recently contributed more than $80,000 (pdf) to the Catholic University of America (CUA) through the annual national collection. For more than a century, the  annual collection has  been a  critical  pillar of  support  for  the university's work. Many years ago, James Cardinal Gibbons, the first university chancellor and ninth Archbishop of Baltimore, affectionately coined the collection "the people's endowment." 
The collection today remains a way for faithful Catholics, alumni or not, to contribute to the direction and future of their Church here at home. CUA students come from all over the world, including the Diocese of Raleigh, to receive an exceptional Catholic education. Several diocesan seminarians are currently studying at CUA, and several priests in our diocese have benefited from CUA studies, including Monsignor Michael Clay, Father James Garneau, Father Rafael León, Father Tim Meares, Father Dan Oschwald, Father Phil Tighe, and Father Tom Tully.
Catholic University belongs not just to those who work, teach, and study there but to all Catholics in our country. As Saint John Paul II reminded us almost 40 years ago when he visited CUA, "The responsibility for maintaining and strengthening the Catholic identity of the university rests primarily with us."