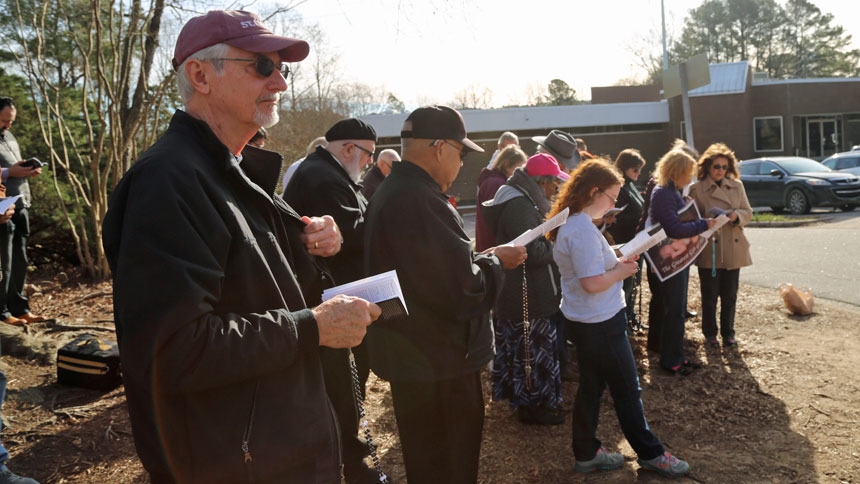 Members of a local pro-life ministry use their voices, prayers and presence to fight for the unborn.
On the first Tuesday of each month, ministry members, who belong to Garner's St. Mary Mother of the Church Parish, gather at 3305 Drake Cir. to pray for people who are across the street at A Woman's Choice Clinic, an abortion clinic in Raleigh.
"We're praying for the souls who are being aborted, and for their mothers and fathers," says Mary Ann Madonna.
The group began a 40 Days for Life campaign March 12. During Lent, they will gather weekly, rather than monthly, to pray for one hour, beginning at 9:30 a.m.
Ministry members often offer prayers from In the Palm of His Hand: Prayers to End Abortion, a prayer book compiled by Father Frank Pavone.
Terry Duff, another member of the ministry, greeted each person and gave them an agenda of prayer and prayer book.
"I've always been pro-life, but coming here made me realize that I hadn't ever outwardly supported [the cause]. I was wrong. Now is the time. There's nothing more important than life. I don't know how anyone can not see that," Duff says.
Bishop Luis Rafael Zarama, Father David Chiantella, pastor of St. Mary Mother of the Church, and Father Joseph D'Silva joined in the prayers, which included a Lenten pro-life prayer, the prayer to end abortion, intercessions and rosaries.
Though the campaign is organized by the St. Mary Mother of the Church ministry, all are welcome and invited to come and pray with the group.