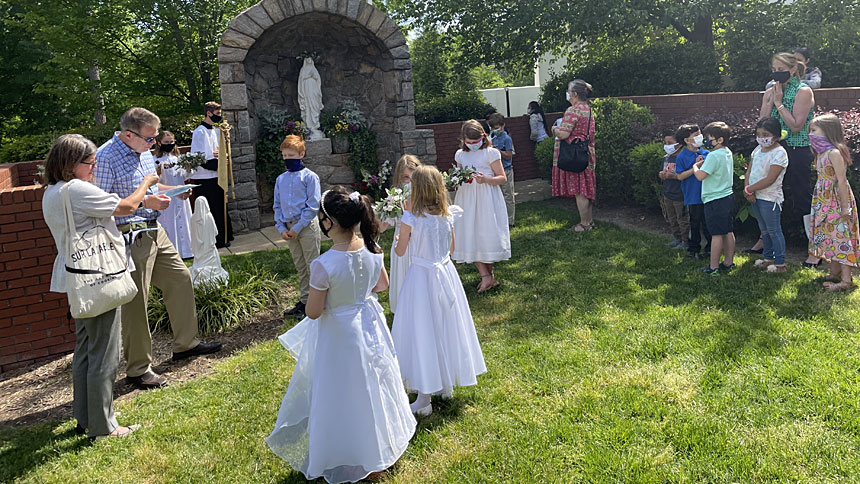 RALEIGH - When Our Lady of Lourdes Parish had to cancel their May Crowning event in 2020, it stung.
In the years before the pandemic, the parish invited faith formation students, especially those receiving First Communion, to crown the Our Lady of Lourdes statue with flowers and say a rosary at the grotto.
Candace Sperati remembers the cancellation and said the time felt like a spiritual void.
"We held a personal crowning later, with the Legion of Mary, but there was nothing going on. Our chapel was closed; it just felt like, spiritually, we were not living," said Sperati, who is the current coordinator of children's faith formation.
When the time came for the parish staff to plan the event for this year, Sperati hoped to make it special. She said it was Father Pat Keane, pastor, who inspired her.
She said, "At the staff meeting, Father asked, 'Why do we just crown one?'"
Sperati laughed. She thought it was a good question.
"We started counting and realized we have six statues and one image of Mary at Our Lady of Lourdes. We decided to build the May Crowning around Mary and her rosary," she said.
Sperati took inspiration from the book "The Secret of the Rosary," by St. Louis de Montford, and made crowns of white and red roses for each statue.
"It was all spirit led," Sperati smiled. Part of her evidence was that the craft store had a sale on every piece of material she needed for the crowns.
On May 2, after the 9 a.m. Mass and during the regular faith formation class time at the parish, Sperati invited the school and parish community to join in this first-of-its-kind event at Lourdes.
People gathered to process from the playground to the grotto, and then across the campus and, finally, into the sanctuary in order to crown each statue of Mary. Included in the gathering were students and teachers from both the school and the faith formation programs as well as parents, grandparents and parishioners.
Led by the cross and a dozen First Communicants, parish and school communities joined together to say a decade of the rosary at each statue.
The procession culminated in the sanctuary just as parishioners were taking their seats for the 11:30 Mass, inviting all to join in the last Glorious Mystery, the Coronation of Mary.
"I'm just grateful to Father Pat and everyone who helped make this possible," Sperati said.
When Father Pat learned that he was given credit for the idea, he shook his head.
"Candace did all of it," he said, noting how many different ages, communities and cultures were represented and united for the event.
Photos