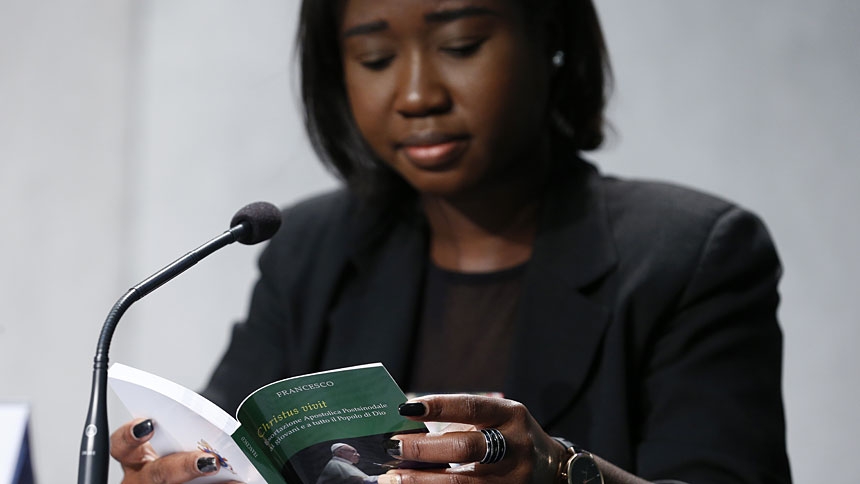 Above: Laphidil Oppong Twumasi, a youth leader from Ghana, reads Pope Francis' apostolic exhortation, "Christus Vivit" (Christ Lives), during a news conference for its presentation at the Vatican April 2, 2019. The document contains the pope's reflections on the 2018 Synod of Bishops on young people, the faith and vocational discernment. (CNS photo/CNS photo/Paul Haring)
---
VATICAN CITY (CNS) -- While digital communications and social media can be used as a tool of evangelization and a place of dialogue with others, they also can be lonely environments where young people fall prey to humanity's worst vices, Pope Francis wrote.
In his new apostolic exhortation to young people, "Christus Vivit" ("Christ Lives"), the pope warned that as the digital environment continues to become the norm, it has had a "profound impact" on young people's ability to communicate and develop relations with others.
"The fresh and exuberant lives of young people who want to affirm their personality today confront a new challenge: that of interacting with a real and virtual world that they enter alone, as if setting foot on an undiscovered global continent," he said.
Calling young people to be missionary disciples and to set out to areas their elders have left largely untouched, Pope Francis said young people should be encouraged to fill social networks with "God, fraternity and commitment."
The document, released April 2, includes the pope's reflections on various issues discussed during the 2018 Synod of Bishops on young people, the faith and vocational discernment.
Among other challenges facing young men and women in the modern world, the pope addressed the advantages and pitfalls of digital communication, which has shaped today's "ideas of time and space, our self-understanding, our understanding of others and the world, and our ability to communicate, learn, be informed and enter into relationship with others."
The digital environment, he warned, also can be a world of "loneliness, manipulation, exploitation and violence" that has the power to create "a delusional parallel reality that ignores human dignity."
Additionally, he continued, an "approach to reality that privileges images over listening and reading has influenced the way people learn and the development of their critical sense."
In fact, during a briefing on the document at the Vatican press office April 2, a journalist asked if the Vatican really expected to reach young men and women with a 183-page exhortation.
Bishop Fabio Fabene, undersecretary of the Synod of Bishops, said the task of informing young Catholics about the contents of "Christus Vivit" would fall to the Dicastery for Laity, the Family and Life.
Looking for inspiration?
Instagram pages for young people
NC Catholics reached out to Katherine Angulo of the McGrath Institute for Church Life at the University of Notre Dame to learn some of the Instagram accounts that young adults she's met in Raleigh, Atlanta and South Bend, Indiana are following. Here's what she said:
@jmjyouth – "A Catholic pilgrimage company" 
@lifeteen – "Leading teens closer to Christ"
@layouthday – "Official account for Los Angeles Youth Day"
@nfcym – "Supports and strengthens those who accompany young people as they encounter and follow Jesus Christ"
@AliveinYouCamps – "The greatest Catholic mission camp in all the Land!"
@heartworkcamp – "CHWC offers week-long, service-centered mission trips for teenagers"
And visit @raleighdiocese, the official Instagram account of the Roman Catholic Diocese of Raleigh!