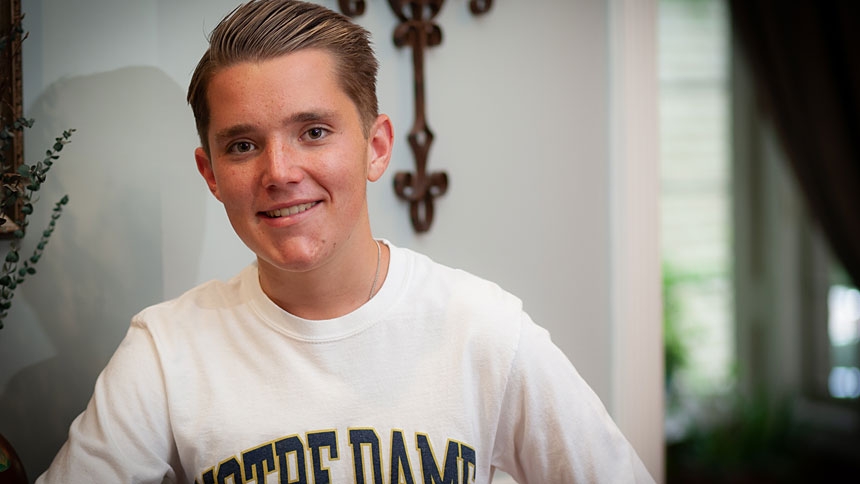 When the University of Notre Dame welcomes incoming freshmen this fall, Sean Cleary will be among them. The Durham student will arrive in Indiana with the essentials for life in the residence hall, and the classroom. Textbooks and computers will assist as he works toward a degree. Coats and gloves will protect him from the harsh Midwestern elements.
But, for Sean, none of these is likely to be as important as his new-found faith.
That proverbial seed was first planted four years ago when he arrived at Raleigh's Cardinal Gibbons High School.
Sean wasn't Catholic and he had never attended a Catholic school, a situation that made him unique at Gibbons. The student body is currently 75% Catholic. And 66% of Gibbons' students previously attended a Catholic elementary or middle school, according to the school's communications director.
Sean, who had attended Triangle Day School for middle school, chose Gibbons after touring many high schools.
At the time, it wasn't his mother's first choice for him, but she followed his lead.
"He's the kind of kid that's going to be successful wherever he goes. Happy is harder to come by for teenage kids," she says.
It turned out that "happy" was what he found in high school.
Sean accidentally arrived 90 minutes early for Gibbons' freshman welcome day. That could have been an awkward situation, but, instead, it became an opportunity. Older students sat and talked to Sean and the time passed quickly.
As the school year began, he noticed how classmates moved tables in the cafeteria to sit with people they didn't know. He observed as teachers and administrators worked with students outside of regular class hours.
Sean began to feel that the "happy" his mother hoped for was rooted in the faith of the students and faculty.
As he grew spiritually through theology courses and all-school Masses, he also excelled academically.
Math was always his strong suit, and social sciences sparked his interest. He enjoyed history and political science, a subject matter he may pursue in college. A senior year Foundations class, taught by Rick Martin, made Sean curious about the history and philosophy of the Catholic Church.
He joined the school's academic team and made multiple appearances on WRAL TV's The Brain Game, a weekly game show that pits local Triangle students against each other in a battle of smarts and wits.
When mention of a competitive nature pops up, Sean is quick to dismiss it, insisting that he's not nearly as competitive as his mom thinks he is.
Sean participated in service projects that helped him understand the importance of giving. With fellow students, he visited a Habitat for Humanity warehouse to assemble walls to be utilized at a build site. His volunteer group served meals to those experiencing homelessness. He worked with others to host a "Senior Prom" for the residents of an assisted living center.
Sean's life was busy, but never too busy to sit down to dinner with his two older sisters and their parents, Elena, a neuroscientist and drug developer in the pharmaceutical industry, and Doug, a REALTOR originally from the Chicago area.
During dinner conversation, Doug and Elena discovered that something was changing in their son's spiritual life. Talk often centered on theology, they say. For Sean, the Church's history and the way scholars could trace apostolic succession (papal history) all the way back to Peter and Jesus was particularly interesting.
"He was teaching us," Elena says. "Over time you could see it wasn't just about what they [teachers] were telling him, it was what he believed."  
During his junior year, Sean approached his parents and let them know of his intent to join the Church.
Feeling that their Protestant church had drifted from the scripture, Elena and Doug examined their faith.
"We got to a point where we said wait a minute, we are drifting so far … it just didn't feel like the truth anymore. And we were looking for truth," Elena, who develops treatments for people with epilepsy and is strongly pro-life, says.
For Doug, one of the things that kept coming up was how joyful the Catholics he met were. "It felt like a joyful community whenever we'd participate in family events [at Gibbons.]" 
Together, parents and son joined the RCIA program at St. Michael Church in Cary, where they would study and become full members of the Catholic Church during the Easter Vigil in 2019.
"I know it would be a better story, but there was never one moment when it all clicked," Sean says about their journey to conversion.
The choice of a college was gradual, too.
"By senior year I had realized that Gibbons was such a good environment … a lot of that was because it was a Catholic school," he says. "And that's what you want in a college … that same sort of environment."
And Notre Dame football "never hurts," his dad says with a laugh as they sit around the same kitchen table that led them to a new-found faith.
Sean says he's looking forward to university traditions such as the Fisher Regatta, a boat racing tournament for students held each year on St. Mary's Lake. He may focus his studies on political science and international relations. He has thoughts of possibly working at the State Department after graduation. But, really, he is open to changes and possibilities.
For their part, his parents have simple hopes for him.
"I'm hoping that what he learns about life and the friends that he makes will be as positive an experience for him as it was for me in college," Doug says.  
They don't worry about him getting home sick. Sean is well traveled, and they know that those trips abroad helped prepare him for his next journey. Vacations to Italy - experiencing Rome and Florence along with their art and culture - have been his favorites. For Sean, Florence was preferable to Rome because it was quieter and less crowded. The food, language and sights gave him the desire and perspective to embrace new challenges and opportunities.
And his Catholic faith gives him a foundation and a place to be grounded.
"The Catholic Church seems like a place where the ultimate truth is just, there. And I should be there, too," he says.
At his May 2019 graduation from Cardinal Gibbons High School, Sean, who was the class salutatorian, addressed those gathered. As he was called to the podium by name, his classmates cheered and applauded.
"Look at this group. See how much we've grown in four years?" he asks in his speech. "Well, except for me, I'm still short."
As the crowd laughs along with him, he continues and talks about how his retainer gave him a "serious lisp" his freshman year. 
"I had never gone to Catholic school, and I wasn't really sure how it would go. Yes, I knew I would have to take theology classes and go to Mass a few times a year but, for me, it seemed worth it if it meant I got to go to Gibbons," he says to the graduates during that speech. "Faith didn't just stop in the classroom. I realized it spilled out into the entire school. It spilled out into the people. I realized that is why people were so bright … so happy."
He discussed birthday surprises, helpful classmates and people who encouraged him to stay involved in clubs and keep going at athletic practices, such as track, even when they knew he wasn't at his best.
"As we continue on from this place, carry with you the faith we cultivated here," Sean continues in his graduation remarks. "If you take it out to the world and be a light to those around you, you will inspire them as you have inspired me. If you continue to love those around you and show it constantly through your actions, you will be a force for good … When we take this out into the real world, we can bring a bit of Gibbons to others."
Video
Photos