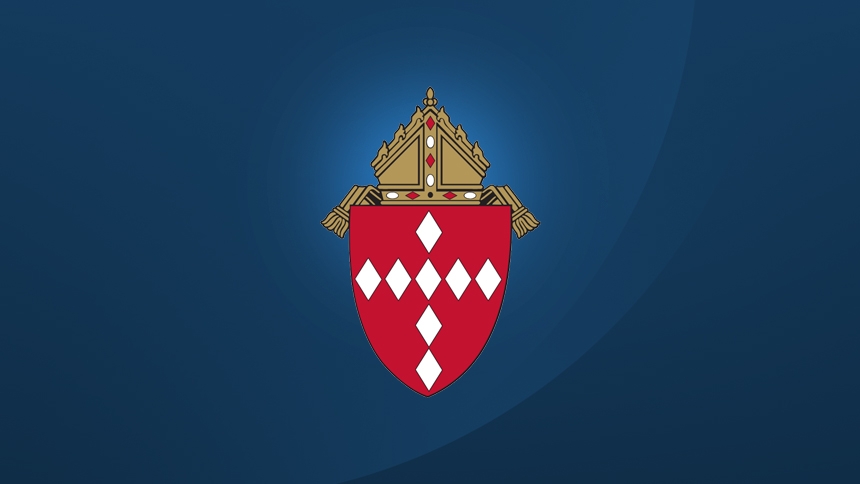 History was made Oct. 15 as the first Vietnamese church in Raleigh, Our Lady of La Vang, was dedicated. Bishop Luis Rafael Zarama presided for the first time as principal celebrant of a dedication Mass in the Diocese of Raleigh.
Close to 900 people attended the momentous occasion that was 40 years in the making. The parish's roots began in the 1970s with a few Vietnamese families practicing their Catholic faith in their homes. For many years, parishioners of Our Lady of La Vang, previously known as the Vietnamese Catholic Community, borrowed space for Mass from other churches.
In 2015, the community of 150 families approached Bishop Michael Burbidge about the potential to become a parish. Bishop Burbidge approved both the parish and its name, which refers to a reported 1790s-era Marian apparition which inspired and brought healing to Catholics in Vietnam.
The following year, in 2016, Our Lady of La Vang Parish purchased the former Bethany Hills Baptist Church property from St. Francis Parish. The property is located adjacent to St. Francis Church on Leesville Road in North Raleigh. That area was ideal for the community as parishioners travel from surrounding cities throughout the Triangle.
Once the property was purchased, the parish began holding services in the fellowship hall and started renovations in the sanctuary.
Binh Nguyen, pastoral council co-chair and project manager for church renovation, said the parish came together to make their dream sanctuary with limited resources.
"When we found out how much it would cost, we said we had to do something creatively in order to really do what we wanted to do," he said. "One thing we knew is we didn't want to renovate the church to turn around and have to re-renovate it."
One creative step was that parishioners searched and found pews for sale from a church that was closing in New Jersey. Volunteers transported, cleaned and installed the pews themselves. The project, which utilized dedicated volunteers working in the evening, took nearly six months.
Bishop Zarama acknowledged the incredible sacrifice, hard work and dedication it took to make this dream a reality.
"You built this place with sacrifice and love and that is why this place shines. The beauty is because the real foundation of this place is love and sacrifice," he said during his homily.
Father Charles Pham, pastor of Our Lady of La Vang, said that finally having a place that was their own spiritual home made it an especially joyful day.
"People [have been] waiting and waiting for 40 years until this moment. It start with only one or two families and grew and grew. We had to go all around and around shopping for a church where we can celebrate Mass until this point," Father Pham said.
During the dedication Mass, relics of five persecuted saints, who were persecuted in Vietnam, were placed in the altar. That moment was especially significant for the parish as one of their parishioners, Thu Bui, shares a connection to a saint whose relic was installed.
Bui moved to the United States from Vietnam in 1992. She grew up hearing the story of her great grandfather, [now] St. Martino Tho Van Tran, who hid three pastors in the walls of his home at a time when Catholics were being persecuted. When he was found, despite being imprisoned and tortured, he refused to denounce his faith and he refused to give information about where other Catholics may be hiding.
Bui said she was happy and honored that to have a relic of "her saint" in her new church. "I hope that my saint will pray for us and help everything better and bigger," she said.
The Mass was celebrated in English, with all responses and songs in Vietnamese. The Liturgy of the Word was divided with the first reading in Vietnamese, the second reading in English and the Gospel in both languages.
For Nguyen, dedication day marked the beautiful combination of two cultures he loves. "I am a dual citizen, Vietnamese and American. I think I love both cultures equally and I think having another culture in your life cannot do any harm; it can only enrich your life and your experiences," he said.