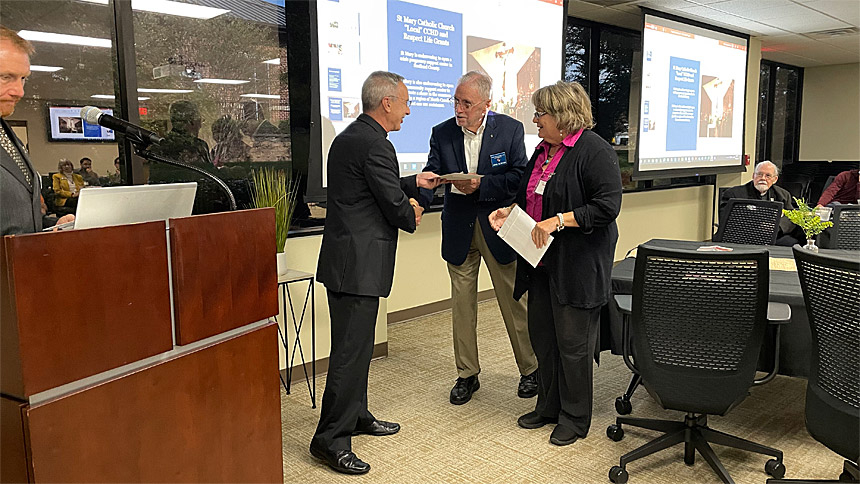 RALEIGH – Representatives from several organizations gathered Oct. 28 to network and receive grants at the Catholic Center, the administrative building for the Diocese of Raleigh.
The 17 recipients for the Catholic Campaign for Human Development grants fit into one (or in some cases, two) of three grant categories: U.S. Conference of Catholic Bishops CCHD, which awarded $250,000, local CCHD, which awarded $20,000, and Respect Life, which awarded $10,000.
Funds for the USCCB CCHD were from the USCCB's national collection. Like many dioceses and archdioceses in the country, the Diocese of Raleigh contributed to this fund and 25% of what was gathered locally remained in the diocese to be awarded as local CCHD grants. Funds for Respect Life grants were provided by the Bishop's Annual Appeal, said Deacon Joshua Klickman, coordinator of Human Life and Dignity for the Diocese of Raleigh.
According to the USCCB website, CCHD is "the national anti-poverty program of the U.S. Catholic Bishops, working to carry out the mission of Jesus Christ."
It's designed to address root causes of poverty and is not intended to serve the direct needs that are already aided by charities, said Deacon Josh.
The grants awarded in Raleigh will assist organizations in serving people in need. "It's not about numbers, it's about each human person," Bishop Luis Rafael Zarama told those gathered. "Life always has needs."
The diocesan Office of Evangelization & Discipleship hosted the event and recognized the following recipients: Durham CAN, Campaign for Migrant Worker Justice, ONE Wake, Orange County Justice United, Raleigh Area Land Trust, Fayetteville Area Operation Inasmuch, Fayetteville Justice for Our Neighbors, Lincoln Height Community Development Coalition, North Carolina Congress of Latino Organizations, Pardoned by Christ Ministries, St. Mary Catholic Church in Laurinburg, StepUp Ministry, Albemarle Pregnancy Resource Center & Clinic, Creative Choices Pregnancy Resource Center, Family Honor Raleigh, Beginning and End of Life Ministry at Holy Name of Jesus Cathedral and Vagabond Missions.   
The Respect Life Grants, one of the three types of grants that were awarded, were created in the diocese in 2000 to "support and uphold the sacredness of human life of all persons from conception to natural death, linking life issues in a consistent ethic of life," said Deacon Josh.
The CCHD collection is taken up annually. Most parishes do their collection the weekend before Thanksgiving.
In 2020, donors in the Diocese of Raleigh gave a total of about $80,000 to the national collection.
Photos