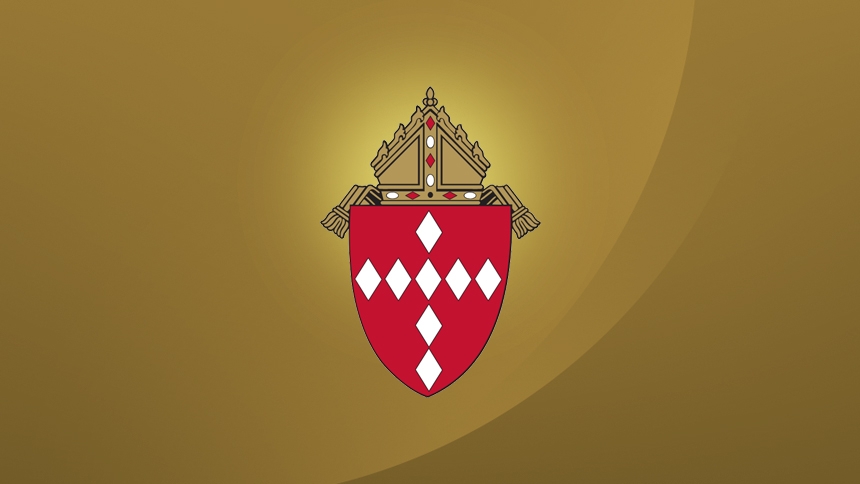 It was a bitter cold evening in the winter of 1981. Johanna Moore, a Catholic Parish Outreach volunteer, was out feeding her chickens and couldn't stop thinking about a client she met that morning who had no heat in her home.
The chickens were in a protected building, one that Moore's husband had put extra insulation in because of the cold. It was an appropriate situation for the chickens. But the client, she thought, was unprotected.
Moore went inside and called fellow volunteer Jim Colver to check and see if he had helped the client yet. Turned out, he was about to head to her house with a heater.
"And that was how we did it, we just lived it," said Moore about the experience.
The seed  
The seeds of what's known today as Catholic Parish Outreach were planted in the early 1970s when two sisters from the Order of the Daughters of Charity were sent to Raleigh to start a Catholic Charities program. As they began to provide food and money, they quickly realized the need was greater than what they could fulfill alone.
They called for a meeting at Sacred Heart Cathedral to discuss the need for a lay ministry outreach program to provide for the poor of downtown Raleigh. Representatives from St. Joseph, St. Raphael, Cathedral, Our Lady of Lourdes and St. Mary Mother of the Church parishes attended.
One person in attendance was Carol Zimmerman.
"I can still envision the room. There were a lot of us at that first information meeting. But when the time came to actually start the thing, there were, maybe, six of us in a room. We didn't know what we were doing, or where our funding would come from," Zimmerman said.
In an effort to begin, organizers visited prisons and nursing homes to interview people and find out where they could help the most.
"In the end, we decided, let's just pick a location and see who God sends to us to get help," she said.   
That location, according to a 1978 article in the NC Catholic newspaper, was an old, 400-square-foot barbershop at 323 N. Tarboro St. Volunteers turned it into a center for "assisting needy in this area" and helped 150 families. It was called the Greater Raleigh Parish Outreach, or GRPO.
Zimmerman, who served as volunteer coordinator, helped grow the organization from a dozen to more than 100 volunteers.
And today, from her living room, she can reflect and say that her friend and fellow volunteer Jim Cichetti was the reason why.
"I was hiding [back then] … when they came around looking for help, but Jim just kept buzzing at me," she said.
For Cichetti, the reason was simple. "I just wanted to get everyone else to do the work I didn't want to do," he laughed.
Although he's quick to joke, Cichetti becomes very serious about the ministry and why he wanted to recruit friends to work alongside him.
For him, there's joy in taking groceries to clients and loading groceries into their car.
"[With] a smile on their face ... they say, 'Thank you, God bless you,'" he said.
And I say, 'He does. Every day."
Growth brings focus, possibility
In the beginning, volunteers provided whatever people who walked through the door needed. That meant food, money for utilities and bus money.  
"We'd walk with them to buy a bus ticket and see them onto the bus. It was very personal," said Moore.
But good news spreads fast and the word about this new ministry led to rapid growth. Within a little more than a decade, the ministry had to move twice to accommodate the increased needs and donations. A storefront on Franklin Street was a temporary home until the move to Capital Boulevard and a 3,000-square-foot building.
In that same time, organizers realized that focusing their efforts would allow them to serve their clients more effectively. The most pressing needs in the community included food, clothing for small children and expectant mothers, and baby equipment. These services remain the core of CPO's outreach.
Taking the reins through growth and change was Bob McBride. McBride had started out as one of the founding volunteers and his passion for the mission shone through his 15 years as director.
Before his death in 2004, McBride guided CPO through yet another move. In 2003, CPO relocated to an 8,000-square-foot facility on Noblin Road. This move was significant because of the new possibilities it opened. For example, CPO could now have a walk-in refrigerator, a walk-in freezer and a forklift. The increased space also allowed CPO to invite the Hispanic Family Ministry to share a building.
One volunteer that helped tremendously in the move to Noblin Road was Terry Foley. Foley came to CPO as a volunteer after her job was downsized in 2001. "Helping others helped me recover from losing my job, and helped me grow in my faith," Foley said. In 2004 she became the 3rd director of CPO. And today, 13 years later, she still serves.
Spirit's guidance
Though dedicated volunteers and staff have given their heart and souls to this organization, they agree that they were simply following a designed path.
"I have no doubt it was the Holy Spirit that guided us along the way." Zimmerman said. "It was just a feeling that I wasn't walking this journey alone. God guided it to where it is now."
Moore agrees and laughs as she describes a meeting with Colver who, in addition to moving furniture and heaters in his station wagon, was the volunteer treasurer. "Jim (Colver) was always concerned about keeping money in the bank so we could pay the next month's rent. We said, 'Jim, this is an act of faith. We should always give what we have because the money will come in for next month's rent.' And it always did."
Zimmerman recounts one such time with her head in her hands, clearly still stressed from the moment.
"The rent was due, that day. We needed $100. There was no money in the bank. I didn't have any extra money at home, none of us did. We really didn't know what we were going to do. Then the mail came. I opened the first envelope and in it was $100 with just a note that said, 'for donation.' I have no idea who sent it. It was exactly what we needed, exactly."
With other organizations and thousands of people counting on CPO every month, it would be unthinkable for CPO to cut it so close today. However, Foley said she, too, witnesses miracles almost every day.
"Sometimes it is something so small like the mother who needs a boy scout uniform for her son - guess what we have in the clothing area? Since 2001, I'm only aware of one scout uniform in our clothing area, and that was the one. Or the family whose son is celebrating his 4th birthday, and he loves Spider-Man. The parents don't have the money to celebrate, but we happen to find a Spider-Man birthday cake, and Spider-Man children's clothing"
Bound By Love  
Now in a 16,000 square foot building on Raleigh Boulevard, CPO provides 2.8 million pounds of food in a year to families. It is a center for numerous services and enduring hope.
Through the moves, growth and change, Cichetti, who was there in the beginning, and has been a regular volunteer again since his retirement, said one truth remains, "The faces of the people in need. It has always been the face of Jesus."
Zimmerman had the honor of reading the CPO history at the 40th anniversary dinner this fall and said that though the script she was given was accurate and true, there was something missing. In the moments before she was to speak, she scribbled something extra at the bottom, to contribute her heart and words to the history.
"CPO has become the extraordinary ministry that it is today because of the many wonderful people who volunteered over the years and the generosity of countless people who supported it. It's truly something to be proud of and there is no doubt that God is very much at work here."
By the Numbers 1977 to 2017
Building Square Feet: 400 to 16,000
Clients Served per Month: 25 to 8,500
Volunteers in a Year: 20-50 to 1,900
Pounds of Food given per month:  200 – 230,000
Paid Staff: 0 – 4*
*Three staff positions are supported by grants.
Beyond the Bread
Though CPO is the largest food pantry in eastern North Carolina and continues to provide clothing and necessities for growing families, it also innovates. 
Family Table is a collaborative effort which allows clients from the food pantry to connect with  outside agencies in order to get to YES, which stands for Youth success, Early childhood success and Stable homes. This YES is achieved by helping clients with job and life skills.
Centro para Familias Hispanas, a program of Catholic Charities, operates within the Raleigh Boulevard facility and enjoys a close relationship because CpFH clients are often CPO clients as well. With CPO meeting the basic needs of a family, CpFH can focus efforts on the growing Hispanic population for whom cultural and language barriers can provide obstacles to success. Programs include:
"Reading Buddies," a weekly reading tutoring program where N.C. State students help Hispanic children reach grade-level reading goals
Assistance with government forms and applications including tax preparation
ESL and vocational classes
Language is the Key, a program funded by Smart Start, is designed to enhance children's language and literacy skills