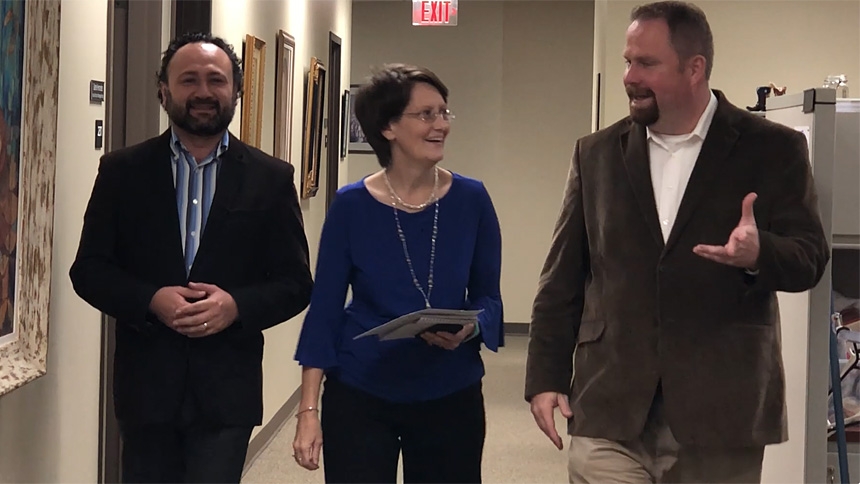 The Diocese of Raleigh Office of Evangelization and Discipleship, formed in August 2018, recently added two new members to its leadership team.
Patrick Ginty is the new associate director of Faith Formation. He will develop, coordinate and administer an effective and comprehensive approach to pastoral leadership with a particular emphasis on life-long faith formation. Patrick comes from the Newton Grove Deanery, where he was most recently deanery coordinator of Faith Formation and director of Religious Education at St. Ann Parish in Clayton.
Gabriel Hernandez is the new associate director of Marriage and Family Life. He will promote a culture of evangelization throughout all ministry areas, particularly marriage, family, and human life & dignity. Gabriel comes from the Diocese of Fort Worth, Texas, where he most recently served as the director of Religious Education at St. Thomas the Apostle Parish in Fort Worth and as an instructor for The University of Dallas School of Ministry's Certificate in Pastoral Theology program and the Deacon Formation Program.
"The parish-level experience Gabriel and Patrick bring to their roles are invaluable to the Office of Evangelization and Discipleship," Amy Daniels, executive director, said. "Understanding the challenges of parish ministry today, that each parish is unique, that a 'program' is not a fix, nor is a one-size-fits all approach, is critically important. Our job is to identify, equip and support leaders – in their own growth in the faith and in the ministry to those whom they serve."
Ginty, Hernandez and Daniels have been meeting with deanery, parish and community leaders within the Diocese of Raleigh to better understand their concerns and needs.
According to Daniels, the new associate directors were hired to:
• Promote and support evangelization and catechesis in multicultural contexts and communities throughout the diocese
• Equip parish lay leaders through formation, training, consultation and collaboration with deaneries and parishes
• Serve as added value to parishes and/or communities, especially the underserved.
Additional staff will be added, she said, to ensure support for leaders in the areas of adult faith formation, respect life, social concerns, African Ancestry and multicultural ministry.
     Amy Daniels                           Patrick Ginty                          Gabriel Hernandez