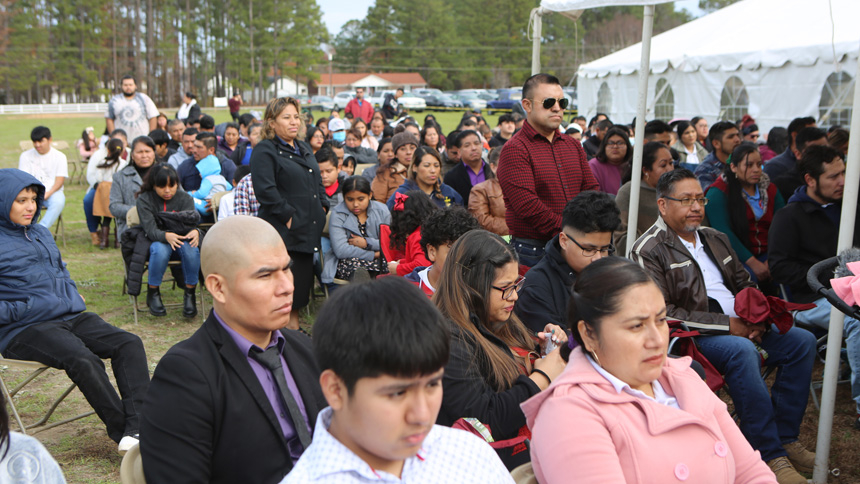 While he said that his words would fail to adequately express the deep emotions he was feeling or how happy he was to be together for the blessing of new land on Dec. 4, Bishop Luis Zarama promised to pray that the future church to be built there for St. Andrew in Red Springs will serve the local community for generations to come.
Father Francisco Javier Garcia Gonzalez, more commonly known as "Chesco," leads the community in St. Andrew. He expressed his gratitude to Bishop Luis for all his support and to the community for their collaboration to build the new church. Father Chesco said that since the church will be their "new home," it requires the support of everyone to make it possible. He asked to continue collaborating to make the dream of having a new and larger sacred space come true.
St. Andrew's new church will be located in St. Pauls, NC, on more than 13 acres near Interstate 95 adjacent to a Pepsi bottling plant. A failure in the structure of the current church in Red Springs didn't allow for renovations or additional expansion there. Bishop Luis said the physical problems of the St. Andrew Chapel are like our own problems that we need to resolve during Advent.
"This is time of preparation to see how the temple of my life is and to recognize that once failures are seen they can be changed," Bishop Luis said.
A great number of parish volunteers cleaned up the land, prepared an altar and set up over 300 hundred folding chairs in preparation for the outdoor Mass and celebration. Many current parishioner families came to witness the blessing of the place where their new church will be built. The local Knights of Columbus chapter and two choirs accompanied the ceremony.
The bishop's blessing, like most liturgies at St. Andrew, was in Spanish. Since 2008, Robeson County, where Red Springs is located, has been identified as among the 10% of counties in the U.S. that are "majority minority." Hispanic residents constitute more than nearly 70% of the county population. Therefore, the Mass to celebrate the beginnings of a new church was in Spanish.
Following the blessing of the land, volunteers placed a statue of St. Andrew at the entrance of the property. Bishop Luis blessed the statue that will watch over the construction of its new church. At the end of the Mass and the blessing, there was a great celebration with music, folk dancing and lots of traditional Mexican food. Attendees also collected more than $22,000 in donations toward the new church.
Photos