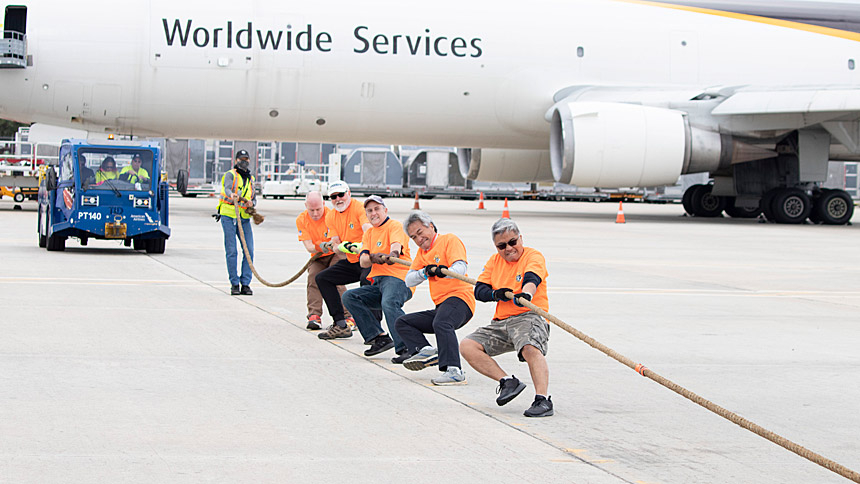 Special Olympics North Carolina held its 2021 Plane Pull fundraiser Oct. 30 at RDU Airport's UPS Terminal. The event featured 80 five-person teams, including three from the North Carolina Knights of Columbus. Each team had an opportunity to pull a 30,000-pound plane 25 feet as quickly as possible.
All fundraising proceeds benefitted Special Olympics of North Carolina.
The Knights' state deputy, J.C. Reiher, presented a check in the amount of $10,000 to Keith Fishburne, CEO of Special Olympics North Carolina.
"[We are] proud to partner with an organization which strives to uphold the dignity of those with intellectual disabilities. The event is a unique team building fundraising activity … to pull a 30,000-pound airplane the fastest," he said. "An additional $500 was donated for the Plane Pull."
According to its website, Special Olympics was started in the 1960s by Eunice Kennedy Shriver and aims to provide "year-round sports training and athletic competition in a variety of Olympic-type sports for children and adults with intellectual disabilities, giving them continuing opportunities to develop physical fitness, demonstrate courage, experience joy and participate in a sharing of gifts, skills and friendship with their families, other Special Olympics athletes and the community."
Photos courtesy of Special Olympics North Carolina.