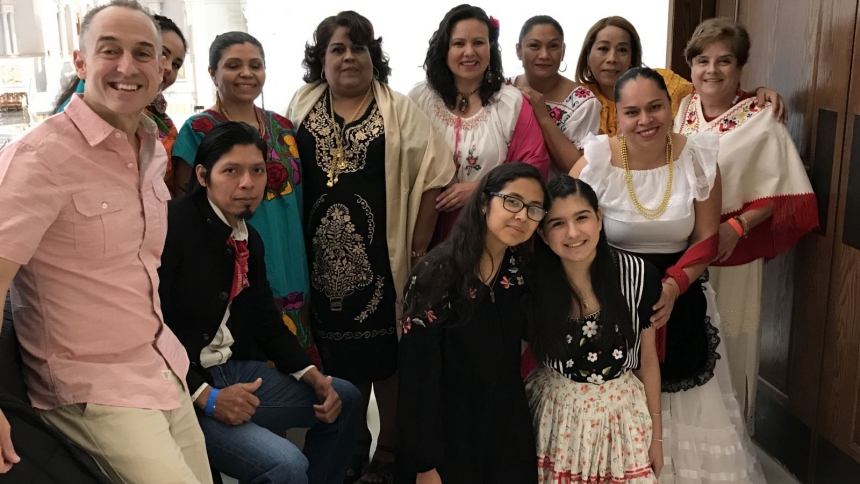 Hundreds gathered at Holy Name of Jesus Cathedral to celebrate the closing of National Hispanic Heritage Month. The month of Hispanic heritage is observed in the United States, Canada and Latin America. September 15 is chosen as the starting date to coincide with Independence Day celebrations of five Latin American countries: Costa Rica, El Salvador, Guatemala, Honduras and Nicaragua. In addition, Mexico and Chile observe their independence on September 16 and September 18 respectively.
The ceremony in the Cathedral began with a procession of flags of Latin American countries, followed by Mass celebrated by Bishop Luis Rafael Zarama. Members of several parishes within the diocese were present and participated as volunteers in the organization of the celebration.
"I wonder how many of us are proud to be Hispanic, to be Latino?" said Bishop Zarama during his homily. He continued by pointing out that we should be proud of our culture of maintaining our identity, but respecting the differences of others, as well as their countries of origin, including the language and cultural traditions "We are the honorary ambassadors of our countries in the United States," said Bishop Zarama. "We need to build bridges to make the Hispanic community stronger every day."
At the end of the Mass, groups from Mexico, El Salvador, Honduras, Peru and Colombia presented dances, including music and traditional costumes. Similarly, traditional Latin, Mexican and Salvadoran food was enjoyed.
This annual event is organized by the Office of Evangelization and Discipleship, of the Diocese of Raleigh.