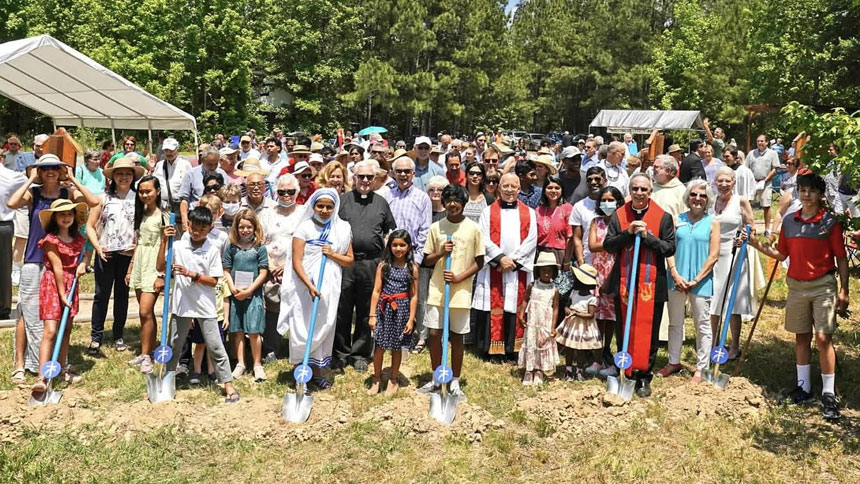 CARY - A rite of blessing and groundbreaking took place May 23 on Yates Store Road for the construction of a new church for the community of Mother Teresa of Calcutta. Bishop Luis Rafael Zarama presided.
In addition to worshippers who have been part of the community for years, the following were also present: Monsignors Douglas Reed, John Wall, Gerald Lewis and Jeffrey Ingham. Father Daniel Oschwald, the administrator for Mother Teresa, was present as well as Fathers Chris Koehn, of St. Mary Magdalene in Apex, and Michael Burbeck, of St. Michael in Cary.
Distinguished guests included: Jean Fuccella, who coordinated services and events during the community's early years, Jeff Vittert, project manager for the Building and Land Use Committee, and Cary's mayor, Harold Weinbrecht. 
The event followed years of growth in the western Cary area.
Over 20 years ago Monsignor John Wall, who was pastor of St. Michael at the time, celebrated the community's first Mass at the Green Hope High School auditorium with fewer than 20 people attending. On Christmas Day 2001, more than 800 people filled the high school gym for Mass.
In anticipation of continued growth, the Diocese of Raleigh purchased 44 acres of land (of which 22 remain) in September 2004 for the future construction of a new church. The property is on the county lines of Wake and Chatham.
The Mother Teresa community is, at present, a mission church of St. Michael. (Catholic communities are sometimes missions of larger churches before becoming parishes.)
On September 4, 2016, Bishop Michael Burbidge, who was bishop of the Diocese of Raleigh at the time, celebrated Mass at Green Hope High School to mark the first feast day of the newly canonized St. Teresa of Calcutta.
The planned completion date for the church building is estimated to be September 2022.
Photos