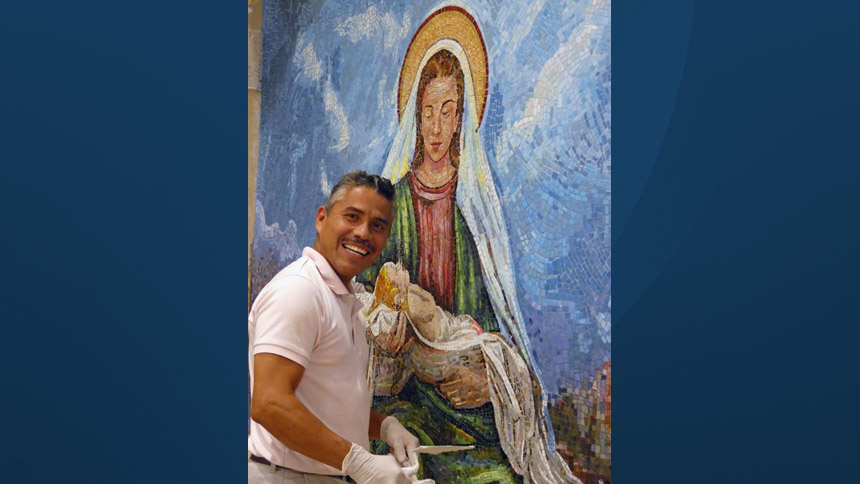 CLAYTON - For much of the summer, St. Ann Church was an art room where Jorge Luis Piña Rosales installed mosaics to complete three large images that he made in his workshop in Mexico.
Jorge Luis is an internationally renowned Byzantine mosaic artist who was appointed by Father Peter Grace, C.P., pastor, and a group of parish leaders to respond parishioners' desire to honor St. Ann (whose name is also often spelled St. Anne), mother of Mary, while worshiping Jesus.
The three large murals represent: the Immaculate Conception (featuring St. Ann and infant Mary); the Holy Family with Mary's parents - St. Ann, and St. Joachim; and the baby Jesus with Mary and St. Ann that will located at the center wall behind the tabernacle, where the Eucharist is kept.
The art, a focal point of the church's interior, was unveiled July 26, the feast day of St. Ann and St. Joachim. 
Years before the unveiling, Father Peter first met Jorge Luis in Mexico and was fascinated with his work.
"Father Peter came to my workshop and told me that one day he wanted me to do a mosaic for his parish … I never thought that 10 years later he was going to call me again and bring me here to his parish here in Clayton," said Jorge Luis.  
Jorge Luis has a passion for his work and the fragments he joins to create images. He explains the details of the work, such as how important it was to have the name of Mary in the scapular that St. Ann holds in her hand while she is carrying Mary.
Once Jorge Luis developed his initial inspiration, the artist worked with a committee of St. Ann parishioners, and the Diocese of Raleigh, to refine the original image concepts to the ones selected to be installed.
The project is funded by a small group of families, who are generously donating the entire project to St. Ann Church.
It's not unusual for people to call Jorge Luis "the master" (el maestro). He has been related to the artistic world even before he was born.  
"I grew up surrounded by canvases and brushes, oils and mosaics of a thousand colors since my father, Manuel Piña Vigueras, was a painter and teacher of the plastic arts," he said.
Jorge's mother, Rufina Rosales González, is dedicated to Musivary Art. Jorge Luis' father graduated from the prestigious art academy San Carlos in Mexico, and was also artistically linked to Diego Rivera, a prominent Mexican painter who lived from 1886 to 1957.
"This influenced me powerfully. Seeing my parents creating … fueled in me the desire to follow the path of both from my early age," he said. "When a project is being proposed to you, you imagine yourself, according to your life experiences and knowledge."
He said that when Father Peter asked him for the central mural, the plan was to focus on St. Ann and not to show her husband, St. Joachim. That was fine with Jorge Luis, but eventually the focus changed, and he showed baby Jesus with the two of them.
"The interesting thing about my design is that on the floor I put a basket with two pigeons. That was my way to represent the presence of St. Joachim. For me, St. Joachim is giving thanks to the Lord for giving to his wife Ann and to him a child. He is offering the basket to the Lord, that was part of my artistic and symbolic contribution," Jorge Luis said.
The unveiling of the mosaics happened July 26, the feast day of St. Joachim and St. Ann.
"What I want the most is that there are young people who learn this technique because it is very secret, it is very closed and I would like the youth to experience it so that new artists emerge, and new messages can emerge too and they can build their own identity," concluded the artist.
To learn more about the artis Jorge Luis Piña Rosales, the mosaics at St Ann in Clayton and his art visit: https://sites.google.com/view/st-ann-mosaic-art/home.
Video