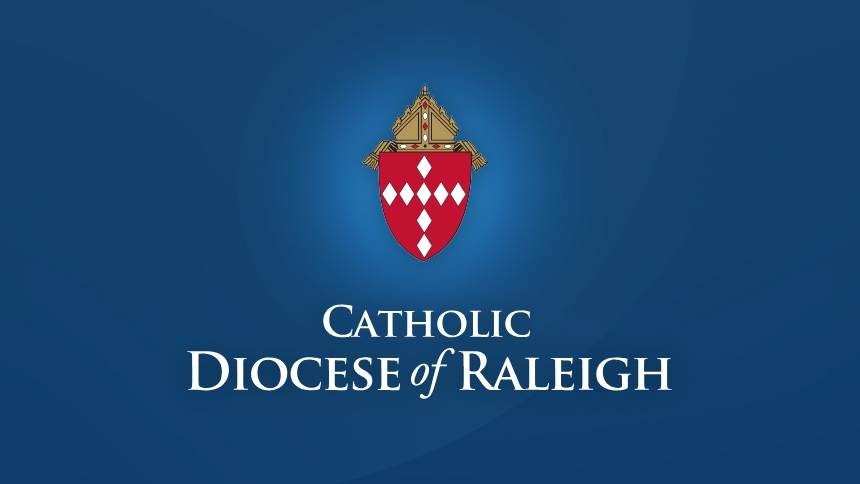 Recipients of more than $140,000 in Catholic Campaign for Human Development and Respect Life grants were recognized Oct. 26 at a banquet at St. Michael the Archangel Catholic Church in Cary.
Three organizations received national grants totaling $110,000. Bishop Luis Rafael Zarama presented checks to 16 recipients of local grants, and each recipient presented details on their ministry and the project being funded. CCHD local grants totaled $20,425, and Respect Life grants totaled $10,000.
Respect Life grants are funded through the Bishop's Annual Appeal. Parishioners in the Diocese of Raleigh have been generous in annual CCHD collections, which take place during Sunday collections. During the last 10 years, through CCHD, more than one million dollars has been put back into communities in eastern North Carolina.
This year's CCHD collection takes place Nov. 18 and 19.  
Mary Ann Crea spoke on behalf of Durham CAN, an acronym that stands for Congregations, Associations and Neighborhoods. Katushka Olave spoke on behalf of the NC Congress of Latino Organizations, and lead organizer Devin Ross spoke on behalf of Orange County Justice United.
Each organization is broad-based, non-partisan, nonprofit and accomplishes its work through community organizing. They engage members in decision-making processes on issues, such as affordable housing, health care and immigration laws.
The following received local CCHD grants:
Creative Choices Pregnancy Center, Nags Head – Mary Campbell, chairman of the Board of Directors, spoke about the life skills packet that the grant funded
Families Moving Forward, Durham – Shana Carignan, development director, described the financial literacy program
Family Violence Prevention Center (Interact), Raleigh – Keri Christensen, associate executive director, talked about career support for victims of domestic violence
Pardoned by Christ, Cary – Michael Shank, executive director, spoke about a transitional program for those who experienced incarceration
Phoenix Hometown Hires, Wilmington – Will Rikard, executive director, discussed a program for jobs and life skills
Step-Up Ministry, Raleigh, – Maxine Terry, alumni program coordinator, shared curriculum materials
An after-school program at St. Paul Catholic School, New Bern.
An after-school program by Lincoln Heights Community Center for the youth of Roanoke Rapids.
Respect Life Grants funded were:
Albemarle Pregnancy Resource Center, Elizabeth City - Deb Burroughs, client services director, reported about supplies the grant will purchase
Carolina Pregnancy Center, Greenville - Laura Strabley, executive director, discussed a laptop that will be purchased for a nurse
Creative Choices Pregnancy Center, Nags Head - Mary Campbell, chairman of the Board of Directors, discussed the practical fatherhood program
The Furniture Project of Orange County - Jane Hathaway, director, described the items purchased that will benefit low-income families
Helpings Hands for Hope, a ministry of St. Mildred parish in Swansboro - Joy Crimmins, co-founder, described the program which provides parish support for women in crisis pregnancies
Onslow Pregnancy Care Center, Jacksonville - Stacey Holland, director, described the help provided through the grant
Our Lady of Guadalupe Catholic Church, Newton Grove - Kim McLean described the signs which will be purchased for the Marian Shrine
Sister Isaac Center, Wilmington - Mary Levesque, of the board of directors, described the program which provides rent and utilities to families in need
St. Elizabeth Catholic Church, Farmville - Rita Zalonis told about the bus that will be funded for travel to the Love My Life Youth Rally and the impact of the event on the low-income youth of the parish
St. Joseph Primary Care, Raleigh - Peter Le, executive director, described the ministry of medical care for those in need
Bishop Zarama thanked the recipients for their service and sent them forth with a blessing. "Service is what makes possible that the people feel like they have dignity. When they have dignity, it is possible for that person to change and be proud to be who he or she is," Bishop Zarama said. "It is a challenge for all of us to see always that Christ is in us. And he is calling us to give them a hand … love makes everything possible. If we don't serve with love, we are not serving."