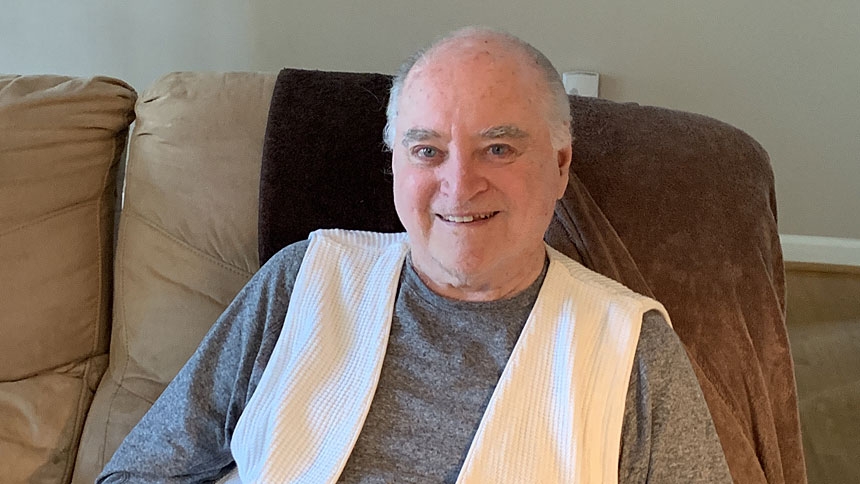 Each June, members of the Catholic Press Association gather for the Catholic Media Conference. At the annual event, Catholic Press Award winners are honored for their journalistic contributions in print, radio, video and, more recently, social media.
Ensuring that social media was not overlooked, Father John Catoir approached the CPA, offering to provide a scholarship to professionals who successfully utilized social media as a tool of evangelization. The CPA, recognizing Catoir's storied history as a Catholic journalist, appreciated the idea, but changed it slightly. They named the award after him.
In 2017, the first Father John Catoir Social Media Evangelization Award was given. The award recognizes the positive impact of a social media campaign to make Jesus known and loved.
In other words, it is an award for being a messenger of joy: a lifelong pursuit for Father Catoir.
'Being a messenger of joy'
The 1970s were busy years for Father Catoir. His columns were syndicated to Catholic newspapers and magazines throughout the United States. He visited Moscow with his dad, and privately offered a Mass in front of the Kremlin Wall. And then there was The Christophers, a multi-media, non-profit corporation based in Manhattan. He served as its executive director.
For a man who was once a Fordham University student working in radio, that decade felt like a dream come true. It seemed that two paths had aligned perfectly – his vocation to the priesthood and his affinity for the written and spoken word.
He was already an internationally known evangelizing priest by the time he met Pope John Paul II in 1980. But after that meeting his vocation became even more focused. It began with a request from the pope: "Be a messenger of joy."
That mission that would transcend all others and would become Father Catoir's purpose in life.  
The message, Father Catoir says, wasn't surprising. However, receiving a directive to be a messenger of joy on a personal level from the pope, is a moment he has never forgotten.
Father Catoir took the instruction to heart.
For the next 17 years, he hosted Christopher Closeup, a syndicated, half-hour program broadcasted on nearly 300 television stations and the Armed Forces Network. He interviewed prominent figures such as Fred Rogers, Cardinal Leo Joseph Sounens, Dorothy Day and Jane Pauley. One of his favorite guests was movie star James Cagney. The pair became friends and when Cagney died, Father Catoir celebrated the funeral Mass and gave the eulogy.
During the time he hosted the show, Father Catoir wrote Enjoy the Lord; A Path to Contemplation. The book became a best seller, and he went on to write several more.
Father Catoir, who holds a doctorate in Canon Law, had become one of the great messengers of the Church. But, even beyond his media outlets, he strived to transmit the joy of Jesus.
He served as judicial vicar and chief judge of the Diocese of Patterson (New Jersey) matrimonial court. Bucking traditions of the time, he encouraged his brother priests to look upon the cases that came before them with compassion and to apply the "spirit of the law" as opposed to only seeing the letter of the law.
He was also known for supporting social justice issues and was asked to start the Catholic Interracial Council for the diocese. In 1965 he traveled to Selma, Alabama with brother priests to support and march with Dr. Martin Luther King, Jr.
He became the executive director of Eva's Kitchen and Sheltering Program, Inc. (now known as Eva's village) in Paterson in the 1990s. There, he helped feed, shelter and give second chances to people who had nowhere else to go.
Taking a step back, and making a move south
At age 70, he took a step back from that organization. Back-to-back surgeries, for cancer and a knee replacement, forced him to move to Nazareth Village, a priest retirement residence in nearby Chester.
Though officially retired from active ministry, Father Catoir continued to find new ways to spread the message of joy.
He founded and was president of the St. Jude Media Ministry, which provides uplifting messages of joy through radio, video and social media. He also became a sought-after retreat leader. He traveled the country giving retreats on joy and creating a relationship with Christ.
Durham's Avila Retreat House became one of his favorite places to host a retreat.
In 2009, Ashley Rose Olbrich of Cary attended one of Father Catoir's retreats at Avila.
Her husband died six months earlier after a long and difficult illness, and she was looking forward to having time to grieve and reflect. She had never heard of Father Catoir prior to the retreat, but she was attracted to the theme of joy. She originally attended with the intention to make it a silent retreat, steeped in prayer and reflection.
"I had planned on it being a silent retreat and I ended up laughing the whole time," Olbrich says. "I ended up talking with one of the nuns there and told her that I came here expecting to be silent, but I can't stop laughing and she said, 'God knew what you needed more.'"
After that retreat, Olbrich started reading Father Catoir's columns and books. In 2011, she attended another retreat.
Father Catoir mentioned to those on retreat that he would be staying in North Carolina for a little while.
He was due for another knee replacement and heard that Duke University Hospital was one of the best for that procedure. He didn't think much of mentioning the fact, and planned on staying near the hospital as he recovered.
Some of the people on the retreat balked at the thought of him staying in a hotel, and he received dozens of offers to stay and recover at their homes. One of those offers came from Olbrich.
"After my husband's illness, I had all the equipment for recovery he could need, including a stair lift," Olbrich says.
He gratefully accepted her offer. He recovered from surgery in her Cary home before returning to Nazareth Village in New Jersey. While recovering, Father Catoir learned that Olbrich was in the midst of writing a book about her late husband. He agreed to help her and the two remained in touch when he moved back to New Jersey.
A year later, Olbrich was struggling with the decision of whether or not to leave her home. Though the home seemed too big for her to live there on her own, she mourned losing the place where she raised her children and nursed both her mother and husband through their end-of-life care.
For his part, Father Catoir missed the beauty and climate of North Carolina and he struggled with mobility issues. Olbrich offered him an assisted living opportunity in one of his favorite places. He moved to Cary for good in 2013 where he still publishes columns and is active on social media.
Through the course of his life, Father Catoir has served as a soldier, an author, a servant and a television host. It could be tempting to get lost in the accolades and achievements he has accumulated. But, if you did, the reason behind it all would be lost. Because no matter what title he held, or what audience he had, the message was always the same: joy is knowing the love of Jesus.  
---
Father Catoir's impact
In addition to naming an award after him, Father Catoir received the St. Francis De Sales Award from the Catholic Press Association, which is the highest award in Catholic journalism.
Some of his other accolades include:
St. Genesius Award for outstanding service to the entertainment industry from The Catholic Actors Guild of America
President's Gold Medal, St. John's University
Daniel J. Kane Religious Communications Award, University of Dayton.
Honorary Doctor of Humane Letters, St. John's University and St. Francis University.
Honorary Doctor of Humanities, St. Mary's and Kings College.
Photos