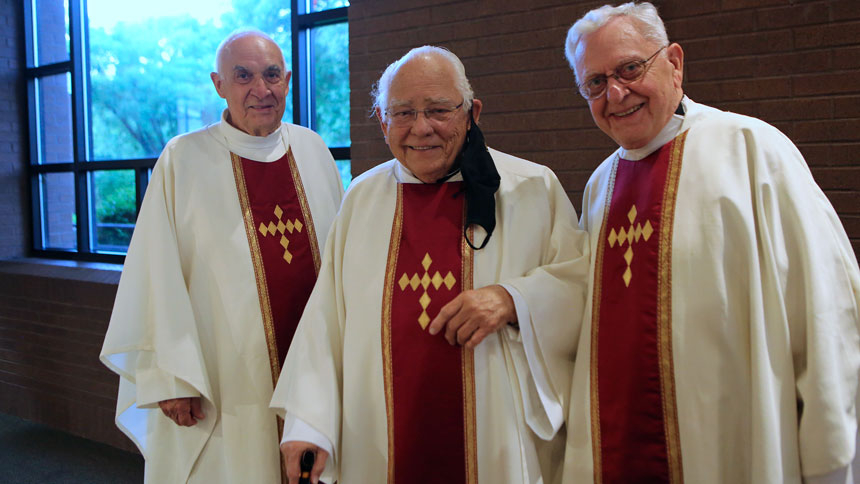 Above: (Left to right) Monsignors Donald Staib, Jerry Lewis and John Wall smile for a photo May 11, on the occasion of Monsignor Lewis' 60th anniversary of ordination to the priesthood.
---
RALEIGH – Before his homily, the eldest priest in the Diocese of Raleigh stood at the ambo and acknowledged the newest Christian in the building. The child's father stood and held the recently baptized boy. Those gathered at St. Raphael Church applauded.
Monsignor Jerry Lewis, 88, is known for creating moments like that one. He wanted those present May 11, on the occasion of his 60th ordination anniversary Mass, to share in the news of the baptism, and to meet his great-grandnephew Oliver, whom he had baptized earlier that day.
Monsignor Lewis spoke to the congregation, made up of former parishioners, friends, family members and colleagues, about the reciprocal nature of his vocation.
"Just as I preach to you, you preach to me in so many ways. Just as I strive to care for you, you care and provide for me. We are a family, together," he said. "I celebrate the priesthood here tonight, but not alone."
Monsignor Lewis spoke about Monsignors John Wall and Donald Staib, who, like him, also began priestly service in the Diocese of Raleigh in 1961.
"Tonight is a night of Thanksgiving. First to God … and to the bishops with whom I have served. I thank God for the many religious sisters with whom I have worked. These women were brave and talented in spreading the love of Jesus," Monsignor Lewis added. "And finally, I give thanks to you, God's people who have loved me and cared for me and put up with me."
The congregation, which included Don and Mary Haile, laughed.
After Mass she told NC Catholics that in the 1980s she served on the altar guild at St. Raphael when Father Lewis, as he was known then, was pastor there.
"He was very particular," she laughed, remembering her time putting together floral arrangements, such as poinsettias at Christmas, for the church. "He was a very holy, good man."
During the Mass Monsignor Lewis' friend Anne Stahel offered the prayers of the faithful and one of the intentions was a prayer for deceased members of his family, namely his father John, mother Ann, and siblings John, Harold, Ray and Emily Ann.
Monsignor Lewis is originally from Biloxi, Mississippi. He first came to North Carolina when he was a member of the U.S. Navy serving as a hospital corpsman stationed with the U.S. Marines at Camp Lejeune in Jacksonville. He attended seminary at St. Mary's in Baltimore and was ordained to the priesthood May 11, 1961 at St. Mary Church in Goldsboro by Bishop Vincent S. Waters.
During his tenure in the diocese, he served as pastor at more than seven parishes. He was chancellor in the 1970s and vicar general in the 1990s. He retired from active ministry in 2002 but has continued to offer service in roles such as diocesan archivist.
Photos